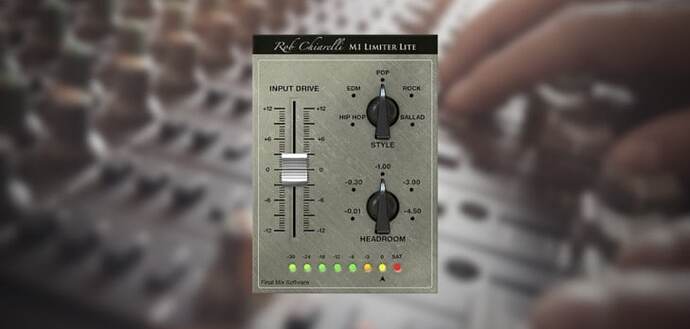 Final Mix offers the M1LimiterLite ($19 value) plugin by Rob Chiarelli as a FREE download until July 31st, 2021.
M1LimiterLite is a limiter plugin suitable for use on the master bus and individual channels. It features intelligent attack and release parameters that automatically adapt to the input signal.
Thanks to its combination of brickwall limiting and transparent compression, you can use M1LimiterLite to boost the volume of individual instruments or to give your mix that final loudness polish.
The plugin comes with five "Style" presets (Hip Hop, EDM, Rock, Pop, Ballad) designed for different music styles. As expected, the "EDM" preset delivers the most aggressive type of limiting, whereas "Ballad" sounds more transparent and relaxed.
As for the control scheme, the user can define the amount of headroom that's needed (from -0.01 dB to -4.50 dB) and then adjust the Input Drive slider to achieve the desired level of limiting and compression.
The plugin is easy to use and it sounds very good. If you don't trust your ears, there's also a handy multi-colored loudness meter at the bottom that will let you know when the signal gets "too hot."
To get M1LimiterLite for free, apply the coupon code JULY2021 at checkout on the Final Mix website (see screenshot below).
With the coupon code applied, complete the free checkout process and claim your copy of the plugin. Hurry up, though, because the freebie offer expires on July 31st (this Saturday)!
Did you get the plugin for free? Let us know in the comments section below.
Download:
M1LimiterLite ($19 value, FREE with coupon code JULY2021 until July 31st, 2021)
---
↑↑↑ 上方链接直接到达 ↑↑↑
资讯出处:M1LimiterLite By Rob Chiarelli Is FREE Until July 31st ($19 Value) - Bedroom Producers Blog