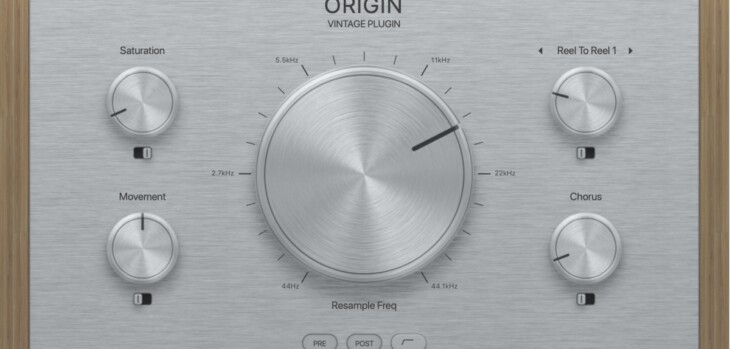 Cymatics releases Origin, a FREE vintage Lo-Fi effect plugin for macOS and Windows.
There is no shortage of Lo-Fi effect plugins, plenty of which are free to download. Plugins like iZotope's Vinyl and one of my personal favorites (although not freeware), Flaw from Tritik.
No matter how many Lo-Fi plugins I have, I can't seem to pass one without wanting to check it out.
The first thing that stands out is that the GUI is super clean. It's based on vintage hardware, and it looks like it.
There are only five knobs, one large, central knob, and four smaller controls.
The large knob controls the Resampler/Bitcrusher frequency, which is the core of the effect. You'll notice that as you lower the frequency, increasing the effect, some artifacts are introduced that don't always sound so good.
Pre and Post buttons under the main knob can filter out any artifacts, leaving you with that underwater kind of sound. Noah 40 Shebib is known to favor that underwater sound, and you can hear it in his work with Drake.
Next to the Pre/Post buttons is a high pass filter, set to 200Hz.
The first of the other controls is the Saturation knob with two modes, Tube and Drive. Each mode offers a slightly different flavor and is great for adding some subtle vintage saturation.
Next up is Movement, with two modes, Random and Fixed Wow and Flutter. The Movement affects the pitch by mimicking the inconsistencies of an old tape machine.
At the top right is the Noise control that offers various Cassette, Reel to Reel, and Vinyl settings. The switch underneath determines whether the noise comes before or after the Resampler.
Last but not least is Chorus, an effect based on the famous Juno 60 Chorus. I'm a big fan of the Juno Chorus and the Juno 60 and 106 synths in general. So, I love that Cymatics included this feature.
Overall, I think Origin is a pretty cool plugin, regardless of it being free. It's definitely a shortcut to that Drake/underwater sound if you need some of that.
The only danger of enjoying Lo-Fi plugins as much as I do is the temptation to overuse them! So, don't do that, and enjoy this cool freebie.
Origin is available in AU, VST, and AAX formats (64-bit only).
Download:
Origin (valid email address required to download, 92 MB download size, ZIP archive containing EXE installer, 64-bit VST/AU/AAX plugin format for Windows & macOS)
---
↑↑↑ 上方链接直接到达 ↑↑↑
资讯出处:Origin Is A FREE Vintage Lo-Fi Audio Effect By Cymatics - Bedroom Producers Blog