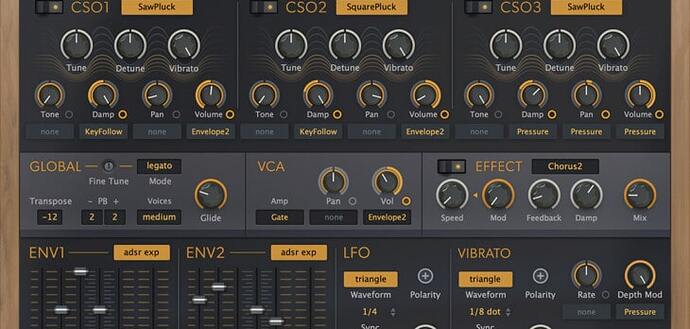 New GUIs and M1 chip support for classic U-He freeware synths, Triple Cheese and ZebraCM.
To many users' delight, U-He has overhauled two of its much-loved freeware synths. The overhaul includes an Apple Silicon release and updates for both macOS and Windows.
When developers release free and paid products, it's fair to say the hope is that freeware users become paying customers. Sometimes, freeware plugins won't do much more than help you decide if you want to buy a paid version or not.
What I like about U-He freeware is that it's designed to stand on its own and be extremely useable without spending a penny.
Triple Cheese is the 2006 KVR Developer Challenge winner. We know the KVR DC brings out some awesome creative plugins, and it's no surprise Triple Cheese was a winner with its unorthodox approach.
The heart of that unorthodox approach is that it utilizes three comb filters (rather than traditional oscillators) for sound generation.
Triple Cheese has four play modes, Polyphonic (sixteen voices), monophonic, duophonic, and legato.
It comes with two ADSR Envelopes with Fall/Rise sustain, a custom Vibrato effect, a VCA with amplitude modulation, and an Effects Processor.
There are 254 factory presets to play with, some of which are epic.
The new GUI delivers a tidier and more professional workspace. Triple Cheese is certainly a little different, but the sounds have so much life in them; it's pretty great.
Triple Cheese is available for macOS and Windows via the U-He website.
ZebraCM is the free version of U-He's Zebra 2.
ZebraCM doesn't have the same modular design as Zebra 2, which means you lose some of that custom-built feel. But, ZebraCM has plenty to offer; it just does it with a more classic setup.
It comes with two Wavetable Oscillators with integrated sync and spectral filter. Also, on the first row of the GUI, you'll find a Noise Generator.
Moving down the GUI, there are two ADSR Envelopes with Fall/Rise sustain, as well as three LFOs.
ZebraCM is polyphonic with up to sixteen voices and includes Mono, Duophonic, and Legato modes. The new GUI is skinnable and resizable from 70% to 200%.
There are 221 factory presets with a nice preset browser and onboard Delay, Reverb, and Chorus effects. Perhaps not the sound design monster that Zebra 2 is, but ZebraCM still packs a big punch.
ZebraCM is available for macOS and Windows from the Computer Music website.
There's no good reason not to have both of these awesome freebies.
More info:
---
↑↑↑ 上方链接直接到达 ↑↑↑
资讯出处:U-He Freeware Synthesizers Updated With Fresh New GUIs - Bedroom Producers Blog