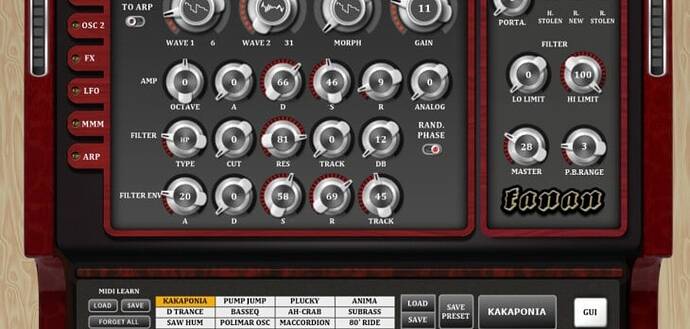 Fanan Team Pro releases Monica 3, a freeware dual-layered 90's style synth VST plugin (64-bit VST2/VST3) for Windows.
Before Monica 3, Fanan Team Pro released Monica, then Monica Evo. Monica 3 is a dual-layered synth featuring two high dynamic range oscillators.
The structure of having two contrasting oscillators has remained from Monica Evo. Oscillator one is wavetable based with 50 wavetables and an additional 50 wavetables for morphing. Oscillator two is a retro eight waveforms pad oscillator capable of creating classic 90's pads.
Thinking of 90's pads brings to mind the Korg M1 and Roland JV-1080, Jungle/House music, and airy strings.
The most notable oscillator difference from Monica 3 to Evo comes in oscillator two. Monica Evo was designed to emulate 90's mono synths, whereas Monica 3 focuses on massive 90's pads.
Each oscillator has its own chord-driven pattern sequencer. The sequencer is a 16-step arpeggiator with various tweaking options. You can adjust the time signature, gate, speed, DAW syncing, and step count ( up to sixteen). Playing with the time signature could be pretty cool for creating moving/evolving pads.
Where Monica 3 starts to pull away from Monica Evo is in the modulation options. There are six LFOs, three per oscillator, with 50 wavetables and BPM sync.
You also have MIDI-Clock Motorized Modulation (MMM), which allows you to create interesting motion through effects.
The included effects are Unison (up to eight voices), Cabinet, Wah, Chorus, Phaser, and Delay. All effects have two send channels (one per oscillator) and can work in global mode.
It seems that Monica 3 is a more significant plugin than Monica Evo. But, with different personalities, I imagine it's worth checking out both.
I'm not a Windows user, so I have no first-hand experience with Monica 3, but I'd like to hear more. If any readers make some music or with it, please feel free to share links with me in the comments.
As well as making me think about vintage synths I wish I owned, it had me reminiscing about something less musical. At first sight, the GUI reminded me of my Sega Mega Drive days, with its cutting edge (90's) 16-bit graphics. I'm not ashamed to say it had my interest immediately.
On a more serious note, if you're interested in that 90's sound, Monica 3 seems pretty cool, and Fanan Team Pro seems dedicated to it.
You can download Monica 3 in VST2 and VST3 plugin formats from the Fanan Team Pro website. The download contains both an EXE installer and the individual plugin files for manual installation.
More info:
Monica 3 (98.1 MB download size, RAR archive, VST2/VST3 plugin format for Windows)
---
↑↑↑ 上方链接直接到达 ↑↑↑
资讯出处:Monica 3 Is A FREE Layered Synthesizer By Fanan Team Pro - Bedroom Producers Blog