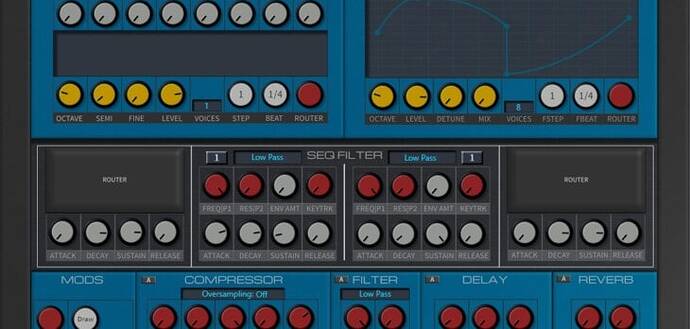 Flandersh Tech has released Movementron, a FREE sequenced synth VST plugin for Windows.
As the name suggests, this synth is all about movement and sounds that develop over time. Movementron is largely built around step-sequencing that shows a clear evolution of sound.
It has two oscillator modes; Seq Osc (A) and FShape Osc (B).
Seq Osc (A) is an 8-step oscillator with individual shapes per step. It also offers LFO's, filters, and effects per step.
FShape Osc (B) is a drawable oscillator with detune and an 8-step filter. As well as drawing waveforms, you can use it as a loop player by loading a sample (.WAV).
Each oscillator has independent Octave and polyphony (Voices) settings.
Dual sequenced filters with keytracking make up the middle section of the retro-style GUI. I like the retro image, and the blue color scheme makes me think of the UDO Super 6, which is on my ever-growing synth wishlist.
Rounding up the lower part of the GUI is the master effects section, including an oversampled Compressor, Filter, Delay, and Reverb.
Just under the Reverb are the Key Range settings where you can set the MIDI range of the oscillators.
On the left, you'll find Pitch and Mod (assignable Mod Destination) wheels.
Overall, Movementron looks like an interesting synth with plenty to offer. At the moment, it's not available for macOS, so I can't say much about how it sounds, unfortunately. One of these days, I will get a Windows machine, I promise!
What I can say is that the idea of having so much controlled motion is something a fastidious sound designer could get lost in – in a good way.
Windows users, feel free to let me know how you got on with Movementron.
Available in 64-bit VST3 format for Windows 8.1 or later.
Download:
Movementron (64-bit VST3 plugin format for Windows)
---
↑↑↑ 上方链接直接到达 ↑↑↑
资讯出处:Movementron Is A FREE Sequenced Synth By Flandersh Tech - Bedroom Producers Blog