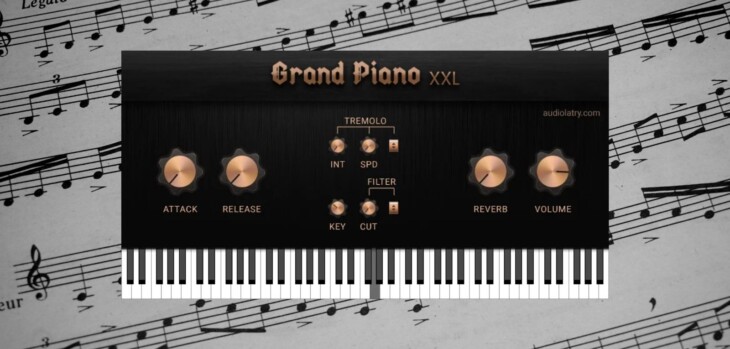 Audiolatry offers Grand Piano XXL, a freeware virtual piano VST plugin for Windows.
When I heard about Grand Piano XXL, I got pretty excited. As a pianist, I'm always keen to try out any new virtual piano, plus it's a change from telling you how bad a guitarist I am when guitar-based plugins come up.
Unfortunately for me, it's Windows-only at the moment, but a Mac version is in the works!
Grand Piano XXL comes from sampling a Yamaha C5 Grand Piano. The Yamaha C5 can be considered a semi-concert piano at just under 7 ft.
Alexander Holm recorded the piano with two AKG c414 condenser microphones in AB position above the strings. The samples were captured in 24-bit 48kHz audio with sixteen velocity layers.
Grand Piano XXL comes in at 1.19GB, and a smaller version (Grand Piano) without key release samples and just four velocity layers is available.
The GUI is basic, which is what I like to see from a virtual piano.
From left to right, the controls are Attack, Release, Tremolo, Key, Filter, Reverb, and Volume.
The Tremolo section has LFO Rate and Depth for pitch, expression, and pan.
The Filter control is a simple cutoff knob (lowpass/highpass). Right next to the cutoff knob, you'll see a Key knob that adjusts the key release gain.
So, you get basic controls, but enough to adjust the character of the piano.
One of the things I find with virtual pianos is that lots have a lovely midrange, but the bass/treble lets them down. It's more often the bass that doesn't have the resonance and depth to convey the power of a real grand piano.
I'm interested to hear how Grand Piano XXL does in this regard because the Yamaha C5 delivers remarkable bass.
After listening to some demos, I think Grand Piano XXL could be nice on Pop, Hip Hop-style comping. Although, I think you need to play it to really get a feel for it.
Keyscape has become my go-to choice for virtual keyboards in recent years. There are other excellent options, but I've got used to the convenience of it, and I think it sounds awesome.
The good thing about virtual pianos is that they are often useable, whether good or bad; perfection can be boring. Some even embrace imperfection, like Rusty Piano from SampleScience.
I'll come back to Grand Piano XXL when the Mac version is here; until then, let me know what you think of it.
Grand Piano XXL is available in VST/VST3 formats for Windows 8.1/10. Download instructions are on the Audiolatry website.
Download:
---
↑↑↑ 上方链接直接到达 ↑↑↑
资讯出处:Grand Piano XXL Is A FREE Virtual Piano By Audiolatry - Bedroom Producers Blog