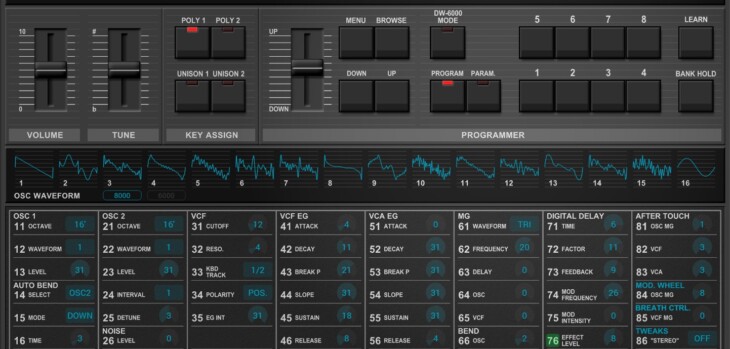 Full Bucket Music released FB-7999, a free synth VST plugin that emulates Korg's legendary DW-6000 and DW-8000 hybrid synthesizers.
FB-7999 is the latest release in a series of Korg synthesizer emulations by Full Bucket Music. The developer released some of the best freeware synths in recent years, including the Fury-800 and ModulAir plugins.
Full Bucket Music doesn't focus exclusively on emulating Korg hardware, but it seems that Korg's vintage synthesizers are their jam. What's most impressive, though, is that all FBM plugins are freeware, and they are all outstanding.
So, what's the deal with FB-7999?
FB-7999 emulates two popular analog/digital hybrid synthesizers. It combines the features of the DW-6000 and DW-8000 hardware synths which utilize digital oscillators and analog filters, resulting in a signature "hybrid" sound.
I'm a big fan of vintage hybrid synths. They have a unique sound that reminds me of 80s soundtracks, VHS tapes, and old commercials. I think it all comes down to the raw sound generated by early digitally controlled oscillators.
They're not as "fat" as analog oscillators, but they still sound warm. They also have this unique lo-fi quality that sounds incredibly good to my ears. Pair that sound with an excellent analog filter, and you have a winning combination for synthwave music production.
As always, Full Bucket Music nailed the original instruments' sound and functionality in plugin format. FB-7999 sounds just as good as its hardware counterparts, with the added benefit of taking up zero space in your studio.
And if you're a fan of beautiful GUIs, you're in for a treat. FB-7999 looks lovely; it showcases the 80s tech esthetic, with a dark grey background, red LCD screens, and teal labels.
But it's not all-retro, either. The interface is freely resizable, so you can use it on your high-resolution screen without any issues (or shrink it all the way down to 575×360 pixels if you're still rocking a CTR monitor for whatever reason).
Here's more info about the instrument:
"FB-7999 is a software instrument for Microsoft Windows (VST) and Apple macOS (VST/AU) simulating the KORG DW-6000 and DW-8000 synthesizers from the 1980s. It is written in native C++ code for high performance and low CPU consumption."
You can download your copy of FB-7999 directly from the product page linked below. No signup is required. The software works in VST and AU plugin hosts on Windows and macOS.
Download:
FB-7999 (7.3 MB download size, ZIP archive, 32-bit & 64-bit VST/AU plugin format for Windows & macOS)
---
↑↑↑ 上方链接直接到达 ↑↑↑
资讯出处:FB-7999 Is A FREE Korg DW-6000 Synthesizer By Full Bucket Music - Bedroom Producers Blog