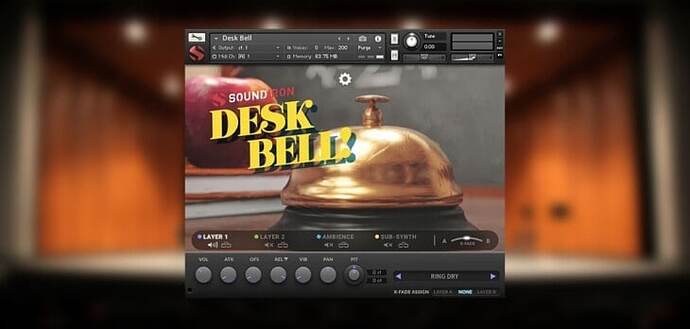 Soundiron releases Desk Bell, a free Native Instruments Kontakt library featuring the sounds of a brass table bell.
The team at Soundiron has been hard at work creating some unique and unusual sound libraries. They're currently running a free giveaway of the Desk Bell virtual instrument from their website.
It has been said that there is music in everything. Some designers take this concept and milk it for all that it's worth, and we get to reap the sweet benefits.
As the name suggests, Desk Bell is a playable and morphable Kontakt patch that utilizes samples of a front desk bell you would find in hotel or doctor's reception areas.
I have to admit that I highly underestimated this patch when I first opened it up, but it quickly surprised me with its understated versatility and excellent sound quality.
The instrument is based on 400 individual samples of a table bell. These samples are essentially the same bell that has been recorded in different environments and with different microphone setups.
Thanks to the integration with NI Kontakt, you can play these samples chromatically with your MIDI keyboard/controller to create some unusual-sounding hooks and melodies.
Thanks to the customized Kontakt interface, you can turn a relatively basic bell instrument into wispy pads or organs. Users can take advantage of the LFO modulators to create some new and unique sounds that sound great over a variety of styles of music.
You can hear the Soundiron Desk Bell in the demo video embedded below.
Thanks to the Kontakt interface, you can also introduce a bevy of effects to your Desk Bell for more intensive sound design.
The FX rack includes all of the popular necessities like reverbs, phasers, flangers, delays, and so much more. You can also route your bell into an arpeggiator with complete control over the swing, timing, and groove movements.
There's a surprising amount of playability packed into the unassuming Desk Bell patch. The instrument itself is an excellent addition for any composer looking to expand their scoring toolkits or producers that want a unique new toy for their arrangements.
Sound Iron Desk Bell is available for owners of Native Instruments Kontakt 5.5 or above. The full version of Kontakt is required to play the library without any limitations. It will only run in demo mode in the free Kontakt Player plugin.
Download:
Desk Bell (480 MB download size, sound library for Native Instruments Kontakt 5.5 or above)
---
↑↑↑ 上方链接直接到达 ↑↑↑
资讯出处:Soundiron Releases FREE Desk Bell Sample Library For Kontakt - Bedroom Producers Blog