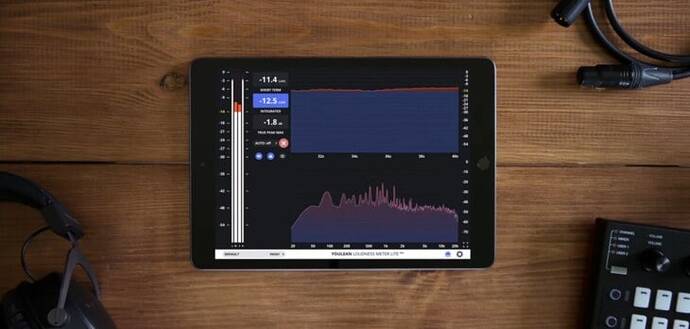 Youlean released Youlean Loudness Meter LITE (Pro version available as an in-app purchase), an iOS app that monitors the loudness of different audio sources, including your desktop DAW.
If you've ever searched for a loudness metering plugin, chances are you ran into Youlean Loudness Meter. It's a wonderfully designed VST/AU/AAX plugin that helps you monitor and analyze the loudness of your audio in real-time.
Youlean Loudness Meter is a handy visual aid that helps preserve the dynamic range when applying compression or limiting on the master bus. It displays multiple measurements (LUFS, LRA, DR, etc.) and also allows you to set the correct loudness levels for different streaming platforms like YouTube, Netflix, iTunes, and Spotify, to name just a few.
As such, Youlean Loudness Meter is an essential mixing and mastering tool, equally valuable during production and post-production. It can even export your audio as a PDF, PNG, or SVG file that you can print and hang on your wall, use as a desktop wallpaper, or tattoo on your forehead if you're a trap artist.
The plugin won the KVR Developer Challenge 2016, was updated to version 2.0 in 2020, and now it's also available as an iOS app.
So, let's take a closer look at this new app and how it can improve your mixing/mastering workflow.
Youlean Loudness Meter LITE iOS App
My first thought when I saw the Youlean Loudness Meter LITE app is now available on the iPad was: "Wow, I hope this makes it possible to set the iPad next to my laptop and monitor the master channel while mixing!"
And yes, thatis possible, but this isn't all that Youlean Loudness Meter LITE is capable of. The developer suggests three main use scenarios.
You can use Youlean Loudness Meter LITE as:
A standalone iOS app for analyzing the iPad/iPhone audio input or built-in microphone;
An AUv3 plugin in your iOS DAW;
A wireless loudness meter for your Windows or macOS DAW.
The first option is the most obvious one – fire up Youlean Loudness Meter LITE on your iPhone or iPad, and it will analyze the audio picked up by the built-in microphone. The app will analyze the hardware audio input if your device is hooked up to an audio interface.
The second option is a no-brainer if you're using a portable DAW. You can load Youlean Loudness Meter LITE as a plugin and use it on any channel, just like you would with the desktop version of the software.
The third option is my favorite. I don't use my iPad as a music production workstation, but it's always right there on the table when I'm working on my laptop. And now I can finally use it as a production tool while mixing/mastering in my main DAW.
Youlean Loudness Meter LITE will connect wirelessly to any desktop DAW via the Youlean Audio Over Network (freeware) plugin and turn your mobile device into a real-time wireless audio monitor. If you have a macOS device, you can use the Lighting/USB cable instead of a wireless connection.
All three use cases are perfectly explained in this walkthrough video by Michael from In The Mix (embedded below).
To summarize, if you use your iOS device for music production, Youlean Loudness Meter LITE will definitely expand its audio analysis capabilities. And if you always wanted to have a hardware audio analyzer at hand while mixing, here's one you can get for free.
Youlean Loudness Meter LITE Pricing
Youlean Loudness Meter LITE is a free app with an optional Pro upgrade. Much like the desktop Youlean Loudness Meter plugin, the app's free version is fully functional and offers everything you need to get the job done.
The Pro version (available as an in-app purchase) adds valuable features like LUFS, true-peak measurement, a spectrum display, vectorscope graphs, online streaming presets, and the all-important audio over network feature.
More info:
Youlean Loudness Meter LITE (iOS app)
---
↑↑↑ 上方链接直接到达 ↑↑↑
资讯出处:Youlean Releases Youlean Loudness Meter LITE (iOS) - Bedroom Producers Blog