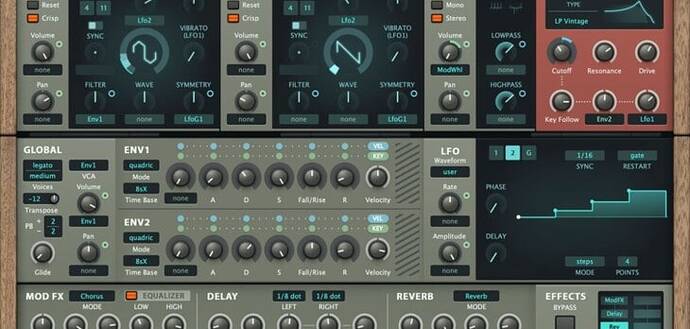 U-He's updated ZebraCM virtual synthesizer is now available for download with Computer Music magazine.
U-He have some great freeware versions of their flagship synths, some of which recently got a much-appreciated GUI refresh.
ZebraCM (the stripped-down magazine-only version of Zebra2) is one that benefitted from a refresh and design overhaul.
Understandably, a new image doesn't always get everyone excited, but it's not just about aesthetics. The old ZebraCM interface looked quite funky, but in truth, it was a bit clumsy and convoluted. Now, it looks great, and more importantly, it flows much better, which should help you work faster.
New look aside, ZebraCM just about scratches the surface of what Zebra2 can do, and it also takes a fixed architecture approach rather than the modular workflow of Zebra2. But that's not a complaint by any means; Zebra2 is just absolutely massive.
At the core of ZebraCM are two wavetable oscillators with sixteen waveforms. Next up is a Noise generator with four types (White, Pink, Digital, and Crackles) and a multi-mode Filter (20 modes).
Moving down the interface, we have two expanded ADSR Envelopes with Rise/Fall Sustain, three LFO's, and three effects modules (Mod FX, Delay, and Reverb).
If you're familiar with ZebraCM, you'll know what to expect from the sound. It's fantastic for Euro House, Techno, EDM sounds, like roaring leads, and thumping/growling basses. It also does well with the more ambient, less in-your-face sounds, too, like warm brassy pads.
I said above that the new GUI isn't just about looking pretty, so here's a couple of examples of how it helps get to those great sounds faster.
Firstly, it has a much improved, much larger preset menu that allows you to search by type/tags. Exploring the 221 factory presets is quick and easy.
Secondly, the vast MIDI CC options are now more easily accessible thanks to a clever overlay page.
When turned on, the overlay pay highlights all MIDI CC assignable parameters with a neon border. Clicking a highlighted parameter will turn it white, ready for you to send some data by moving the desired control. Assigning user-defined modulation sources is a similarly simple process.
The GUI is resizable from 70-200%, which helps keep a tidy workspace.
The verdict on this ZebraCM update is the same great sound, far better workflow. If you like U-He, make sure you check out Triple Cheese, which had a recent makeover, too. I'm a U-He fan; I think they very rarely go far wrong, and their Repro-5 synth is one of my favorites.
ZebraCM is available for macOS and Windows from the latest issue of Computer Music.
More info:
ZebraCM / Pocketmags (available with Computer Music magazine)
---
↑↑↑ 上方链接直接到达 ↑↑↑
资讯出处:Updated ZebraCM Now Avaialable In The Latest Computer Music Issue - Bedroom Producers Blog