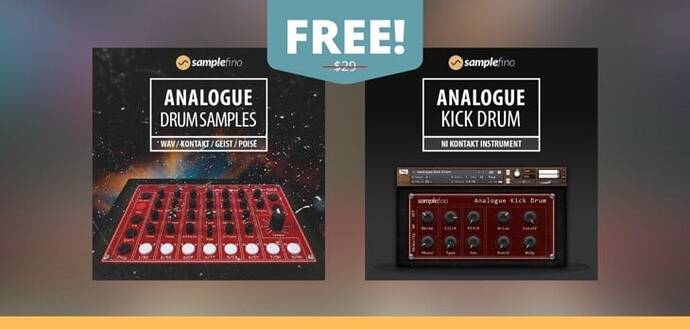 Bedroom Producers Blog offers the Analogue Drums Bundle ($29 value) by Samplefino as a free download.
You can now download the Samplefino Analogue Drums Bundle completely free of charge exclusively at Bedroom Producers Blog.
The Analogue Drum Samples sound library is compatible with any digital audio workstation (24-bit WAV format). Analogue Kick Drum requires the full version of Native Instruments Kontakt.
What is (was) Samplefino?
Samplefino is my discontinued sound design project from 2015. The concept was simple. I wanted to create a drum machine library with multiple round-robins and use a bunch of lo-fi analog gear to make the drum samples more interesting.
And so, Samplefino was born.
Samplefino released a total of two products: Analogue Drums (a drum library with over 1,000 samples) and Analogue Kick Drum (a kick drum generator for Kontakt). These two sample-based instruments used the MFB-522 drum machine as the sound source.
Analogue Drums and Analogue Kick Drum didn't get many sales, and I didn't put much effort into marketing. But they received a decent amount of praise from the people who bought the products and used them.
I guess I enjoyed making those two sound libraries a lot more than actually selling them.
Looking back, it's hard to imagine I made everything on Samplefino myself.
From sampling the MFB-522 and manually editing over 1,000 samples to scripting the Kontakt patches, designing the GUI and the cover artwork, composing the audio demo, editing the demo video (recorded with my trusty Nexus 5 phone), designing the website, even making the logo.
It took me three months to finish the project.
And I'm not saying this to brag – I do my fair share of procrastinating every so often. This is just a reminder that all of us can make cool things happen if we put in the effort.
Samplefino Analogue Drums
The Analogue Drums library is a collection of MFB-522 drum sounds resampled from a TASCAM 244 Portastudio four-track recorder, an old Saba tape deck, a couple of tube preamps, and the DYNACORD Echocord Mini tape delay unit.
Those tape delay samples are still my favorite part of the collection.
I also included some "digitally processed" sounds and, of course, the clean MFB-522 one-shot samples. Each sound comes with at least four round-robin variations (and up to ten round-robins per sample). I edited the sounds manually in Wavosaur to get sample-perfect fade-outs and trim out any silent parts.
Samplefino Analogue Drums includes 1,135 drum samples in WAV format. You'll also get drum kit presets for Kontakt, SFZ, FXpansion Geist, and One Small Clue Poise.
Samplefino Analogue Kick Drum
Analogue Kick Drum was my attempt at making a sample-based kick drum generator in Native Instruments Kontakt.
It lets you combine different attack transients (sampled from various drum machines) with a clean, chromatically sampled sinewave. It's certainly not the most versatile bass drum synth out there, but I was pretty happy with the result at the time.
You can use Analogue Kick Drum as a sub-bass instrument by pushing the Decay knob to its maximum value and lowering the transient volume.
It also features some useful effects like saturation, transient shaping, and filtering. Fun fact: I forgot to include a volume knob on the main part of the GUI, so I added a tiny screw on the "hidden panel" along with some additional controls (pictured below).
Turn the screw to control the volume. Intuitive, right?
Thank god I'm not building rockets.
Samplefino is FREE on BPB
Earlier this year, the Samplefino web hosting account expired, and I decided not to renew it. I don't even keep a backup of the old Samplefino website.
So instead of simply letting Samplefino disappear from the face of the earth, I decided to offer those two libraries for free on Bedroom Producers Blog. I'm sure you'll get some value out of them.
Re-releasing a discontinued product as freeware is always tricky because you have to respect the people who bought it all those years ago.
If you are one of the few people who previously purchased a Samplefino product (thank you!), please get in touch, and you will receive a special discount for my forthcoming soundware product (which will go live later this year).
A few words about the MFB-522
MFB-522 was my first analog drum machine, and I absolutely love it. It's an 808 clone packed in a tiny ultra-portable chassis.
Looking at this miniature drum machine, you'd never assume it can deliver such deep analog bass sounds. But it does.
I wholeheartedly recommend getting one if you want to add some 808-style hardware to your studio.
Sadly, its creator Manfred Fricke passed away in 2021. His engineering legacy continues through amazing instruments like the MFB-522, Tanzbär, Dominion, and others.
Download
Download the Samplefino Analogue Drums Bundle below. A valid email address is required to get the download link.
Download:
Samplefino Analogue Drums (162 MB)
---
↑↑↑ 上方链接直接到达 ↑↑↑
资讯出处:Samplefino Analogue Drums Bundle Is FREE @ Bedroom Producers Blog - Bedroom Producers Blog