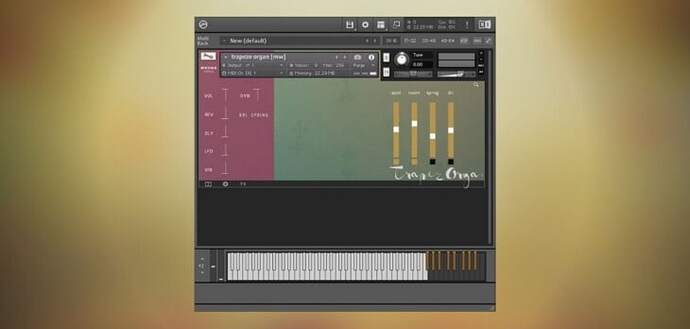 Wrongtools announced a special Halloween deal. You can sign up today to receive the Trapeze Organ sound library for free on Halloween.
With Halloween just around the corner, you might find yourself in the mood to make some slightly strange music.
The Trapeze Organ is a free Kontakt library by Wrongtools. It walks the fine line between traditional vintage organs and modern spooky modulation.
The stock sounds generated from the organ resemble that of the classic early-era units that were used at the turn of the 20th century. The overall soundscape is a tribute to the Eastern European gypsy and carnival culture of this period.
All the sonic material in this device was sampled using recordings from inside a real organ, including variations that were processed through spring reverb units and the timeless Leslie speaker.
The textures are just perfect for anyone wanting to create retro-sounding organ progressions.
The interface of the Trapeze Organ hosts a few basic modulation controls for added sound morphing. Below is a brief outline of all the adjustable parameters that come with the Trapeze Organ.
A four-track mixer for blending different mic placement emulations into your sound for highly accurate stereo mapping;
Velocity Curve and Stereo Width control for increased organic expression;
Pitch Vibrato controls including dials for vibrato amount and vibrato speed;
Dynamic Envelope control with attack and release control that help enhance the dynamics of your signal output. This area is ideal for making your organ sounds softer or increasing its impact;
Additional reverb and delay units to provide you with extra spatial modulation options. Delays can be set manually or synced to tempo;
An LFO acts as one of the primary sources of Trapeze's odd-sounding characteristics.
Users can opt to make use of a wide selection of presets to kickstart their compositions or develop a fresh sound from scratch using the controls listed above. The GUI can switch between simple and expanded modes depending on your preference, and the device window is fully scalable.
The Trapeze Organ isn't just restricted to use for creepy Halloween songs. It also sounds bright and lively in a variety of modern genres from Hip-Hop and Pop to Indie and R&B.
Once you're done using it to scare your friends and family, it's highly recommended you give it a try on some actual music.
Trapeze works with the latest version of Kontakt (6.4.2) and is available to users of Windows 10 and above, as well as macOS X or higher.
More info:
Trapeze Organ (pre-order now to receive a FREE copy on Halloween, requires the full version of Native Instruments Kontakt)
---
↑↑↑ 上方链接直接到达 ↑↑↑
资讯出处:Trapeze Organ By Wrongtools Is FREE On Halloween (NI Kontakt) - Bedroom Producers Blog