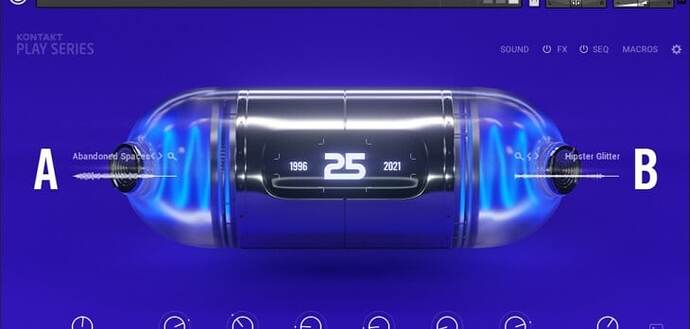 Native Instruments celebrates 25 years of its existence (established in 1996) this year (congratulations, NI!). So, they've launched a new limited-edition Anniversary Collection of their most popular hardware. They also released Twenty Five, a free Kontakt Player library encompassing over two decades of innovative sounds.
The 25th Anniversary Collection features classic NI hardware like the Maschine+, Maschine Mk3, Traktor, and Komplete in all-new colors – Ultraviolet and Vapor Gray.
You can get these limited-edition units from NI's own site. They cost the same as their standard equivalents, so get your hands on them before they run out of stock (I know I will)!
However, the highlight of this new launch is the free Twenty Five instrument for Kontakt and Kontakt Player (Version 6.6.1 and higher). We always love a free Kontakt instrument, but one that covers everything from two decades ago? Perfect.
Part of the 'Play Series,' the Twenty-Five is like a time capsule of Native Instruments' greatest hits – from GENERATOR and REAKTOR to MASSIVE and MONARK.
There are 150 presets available in this library, where 73 of them are resampled from iconic sounds. Here's the full range of instrument presets:
Bass
Brass
Flute
Mallet Instruments
Organ
Piano & Keys
Plucked Strings
Sound Effects
Soundscapes
Synth Lead
Synth Misc
Synth Pad
Vocal
For a free Kontakt library, this is pretty insane. It's more than enough to instantly create some eye-popping melodies and beats.
As an NI fan myself, I knew I had to take this for a spin. I loaded it up in Kontakt Player and tried the Synth Lead preset 'Stan Lee Cue Brick.' I instantly got Space Odyssey feels.
Here's an in-depth look into the sounds of Twenty-Five:
The interface is elegant, with a retro-futuristic design. There's a range of controls at the bottom that allow you to adjust the sound. You can mix two sound sources together for some exciting variations.
What I love most is the 'randomize' button that allows you to quickly play around with different tones till you find the sweet spot. It inspires more musical creativity.
And what's more? Native Instruments is hosting a global competition on its Metapop platform. All you have to do is make some music using Twenty Five, upload it over here, and tell them which presets you used.
When one of the biggest music software companies in the world is offering you a free suite of legendary sounds, what are you waiting for? Download it, enter the competition, and drop some sick beats!
More info:
Twenty Five / 25th Anniversary Collection
More article:
---
↑↑↑ 上方链接直接到达 ↑↑↑
资讯出处:Twenty Five Is A FREE Kontakt Instrument By Native Instruments - Bedroom Producers Blog