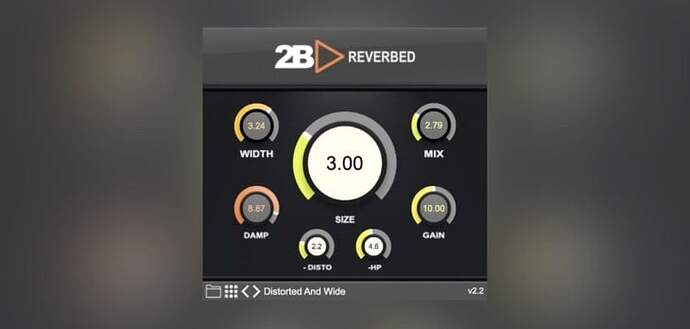 2B Played Music offers the 2B Reverbed (€9,99 retail price) reverb plugin as a FREE download until October 31st, 2021.
The early bird gets the worm, and for the weekend of Halloween, producers everywhere can download the Reverbed plugin by 2B Played Music absolutely free of charge.
Use the coupon code HALLOWEEN at checkout to get your free copy of 2B Reverbed. The free download offer expires on October 31st.
2B Reverbed is a compact, straightforward, but highly effective reverb plugin that you can apply to almost anything in your arrangements and mixdowns.
2B Played Music isn't the most well-known team on the music production circuits, but that also makes them one of the best-kept secrets amongst producers in the know. They have a humble but handy range of mixing and effects tools on their website for very competitive prices.
The Reverbed interface shows users everything they need to know about this plugin's capabilities. The GUI features seven dials that control every possible parameter in the device, and there are no hidden dropdown menus or complex auxiliary controls.
Below is a brief rundown of every controllable knob in the Reverbed plugin:
Size – The size knob is located at the center of the interface and determines the relative size of your room emulations. Bigger sizes create more reflections for hall-type reverb, and smaller sizes diffuse quickly for a more organic feel.
Width – Width will allow you to control the amount of stereo spread on your reverb. This is an essential tool for creating cleaner reverbs or subtly enhancing the body of certain mixed elements.
Damp – Not to be confused with a Dry/Wet knob, the damp parameter sets the overall harmonic characteristics of your reverb. The higher the value, the darker the sonic aesthetic of your reverb.
Distortion – This control adds saturation to the reverb without having it affect your input signal. When used to a high degree, this control can create some very abrasive harmonic overtones.
High Pass Filter – A high pass filter is essential for cleaning up any mud and clutter generated from adding reverb to lower frequencies. This control is vital if you want a strong reverb but still wish to maintain a clear mix overall.
Gain – The gain knob controls the device's output level and is very handy for quick access gain staging.
Mix – The mix knob determines the output mix between your dry signal and your affected one.
2B Played Music has included some of their own presets for users to indulge in, and you can also save any reverb settings you create in your own time.
Solid, simple, and very easy to use, this plugin is ideal for anyone that needs a basic reverb effect that is CPU-friendly. The fact that it's free makes 2B Reverbed an absolute steal.
2B Reverbed is available in VST2/VST3 and AU formats for users of Windows 10 and higher, as well as Mac OS 10.14 and above.
More info:
2B Reverbed (FREE with coupon code HALLOWEEN until October 31st)
---
↑↑↑ 上方链接直接到达 ↑↑↑
资讯出处:2B Reverbed Reverb Plugin Is FREE Until October 31st! - Bedroom Producers Blog