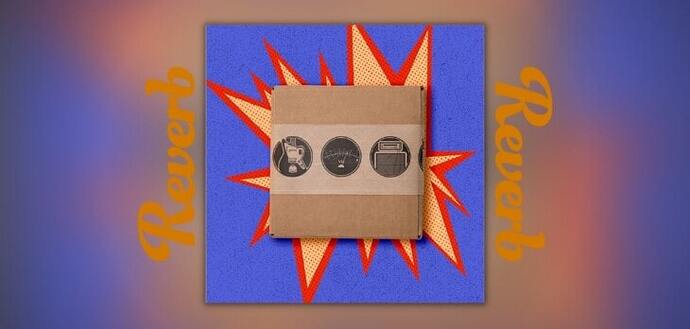 Reverb.com launches the Reverb Mystery Box (link), possibly the perfect musical gift this holiday season.
Why do I say it's possibly the best musical gift? Because you won't know what's in it till the recipient opens it.
Giving a gift to friends or family can be a wonderful feeling, but it's a risky business. You rack your brain to think of the perfect item, do whatever it takes to find it, then it's out of your hands.
While the gift is still wrapped, the initial handover is the best part because it's guaranteed to produce genuine joy. The unwrapping is where it can all go wrong; we've all seen someone look incredibly underwhelmed while saying thank you so much; I love it.
Now, when that happens, we can blame Reverb!
I'm joking, of course, but if you're wondering why you should put your trust in a mystery, here's a couple of reasons.
First of all, the Mystery Box costs $25, and the contents will always be valued at between $38 and $95. Financially at least, you can't lose.
Secondly, a donation (equal to the amount raised by sales of the Mystery Box) will be made to the Willie Mae Rock Camp, a Brooklyn-based youth music organization. So, you can feel good knowing your purchase is helping kids get involved in music.
The only rule is when someone offers you a boat or a Mystery Box, you take the boat, always.
The shop/seller is somewhat of a mystery, too. When you receive your box, it will include an introduction to the seller who handcrafts every item. A handcrafted gift always feels more personal, and it fits well with this benevolent venture.
Mystery items include a kalimba, a kids synthesizer, a musical ouija board, and more.
Reverb has been challenging some artists to make music with whatever instrument arrives in the box, and I think that could be a fun thing to do with friends, too. It could also be a good first step for someone you know who wants to play an instrument but has never gotten around to it.
It's a win/win situation; you get credit for an unusual gift, it's fun, and most importantly, it helps a good cause. Getting kids involved in music is priceless; it encourages creativity, self-confidence, and positive mental health.
Don't worry if you head over to Reverb.com and find that the Mystery Box is sold out; there are more to come (click the Watch button to be notified when more are listed).
The Mystery Box is restocked at 10 AM every Thursday to coincide with each new Holiday Mystery Box Challenge artist video. They're selling out fast.
More info:
Reverb Mystery Box ($25 excl. VAT, back in stock each Thursday)
---
↑↑↑ 上方链接直接到达 ↑↑↑
资讯出处:Is Reverb's Mystery Box The Perfect Holiday Gift For Musicians? - Bedroom Producers Blog