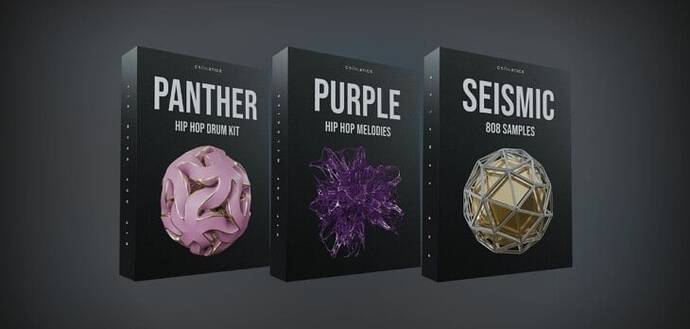 Cymatics offers the Hip Hop Sample Pack Bundle ($50 value) as a free download for a limited time only.
As part of their Black Friday sale, Cymatics has made three of their Hip Hop sample packs available for free for a limited period of time.
These include the Panther Hip Hop Drum Kit, Purple Hip Hop Melodies, and Seismic 808 Samples.
The Panther Hip Hop Drum Kit comprises 64 samples. You can choose between 1-shot samples or drum loops.
Although the pack mentions 'Hip Hop,' the drum sounds can be used in many electronic music genres such as trap and house. The size of this pack is 212.8 MB.
The Purple Hip Hop Melodies pack consists of 16 samples that include synth lines and vocal melodies.
These can be used across all genres and can be especially helpful for producers looking for pre-recorded melody loops that do not sound generic. The Purple pack is 1GB in size.
While the 808 has been widely used in hip-hop and modern electronic music, the Seismic 808 Samples pack promises a fresh take on the legendary 808 sound. Cymatics used different processing on these sounds in an attempt to "reinvent the 808" and make them unique.
If you enjoy the sound of an 808 but are out of ideas on how to make it sound fresh, then this one is definitely for you. Seismic 808 Samples contains 18 samples and is 6.1MB in size.
All samples of these packs are 100% royalty-free. While this is not essential for hobbyists making music or for bedroom producers, one needs to be careful that the samples and loops they use in their music are royalty-free.
The samples can be exported to all DAWs on both Windows and macOS machines.
The hip-hop sample packs make a great addition to one's library and can be used in all genres of music. If you are a beginner, they can be especially helpful if you are looking to get started on a new project and need a little bit of inspiration.
As part of the Black Friday sale, Cymatics is offering up to 75% off on their other products.
While most of their plugins and packs are heavily discounted, there are also a few more free plugins, such as Origin, a tape machine plugin that emulates bitcrusher and resampler, and Diablo, which is a drum enhancer plugin.
You can download these plugins and sample packs from the Cymatics website.
Download:
Hip Hop Sample Pack Bundle (FREE for a limited time only)
---
↑↑↑ 上方链接直接到达 ↑↑↑
资讯出处:Cymatics Offers FREE Hip Hop Sample Pack Bundle ($50 Value) - Bedroom Producers Blog