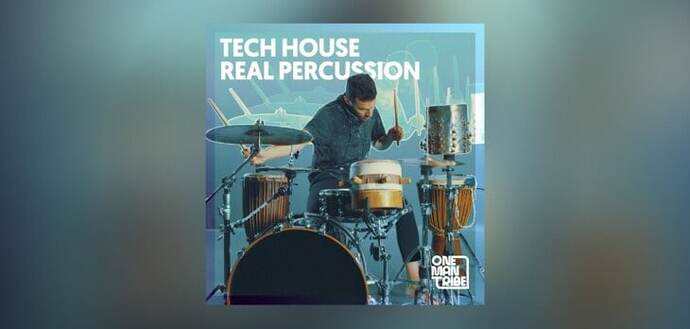 As part of Black Friday, Ben Aylon has released a Tech House percussion pack that you can now download for free.
The pack contains loops and one-shot samples that can be used to make any genre of electronic music and an excellent addition to your library.
It has 87 loops and 88 one-shots. These include Techno House snares, hi-hats, and percussions.
The pack has 25 full beats in 124BPM. These can be warped to a tempo of your choice. There are 12 hi-hat samples in different tones, 12 rototoms, 12 shakers, 1 snare, and one kick drum. There is also a variety of percussion samples, such as the African Thiol and Indian Nagara.
Among one-shots, you can choose between different crashes such as 'open,' 'super long,' 'sustain delay,' etc. The 36 hi-hats have a variety of sounds, including 'crisp,' 'lofi,' and 'tape roll.' Additionally, there are 6 rototom rolls, 1 kick drum, 1 snare, 4 splash one-shots, 19 different percussion sounds, 7 percussion rolls, and 8 shaker samples.
The size of the download folder is 223.3MB.
"Tech House Real Percussion brings you fresh, tasteful loops and one-shots, capturing the essence of universal groove elements that exist in almost any ancient drumming tradition, produced and processed to fit today's sound. Created to inspire, you can find full Techno beats ready-made and mixed, or you can dig in and find your layer and element that will spice up and color your track. Included are Rolls, Fills, One-shots, Loops, and dozens of HiHats."
You can choose from the existing loops or make your own groove using the one-shots. Layering the elements can make for a unique drum sound and groove. This is a good pack for beginners looking to start a new project or producers who want to expand their library with unique sounds.
Ben Aylon (aka One Man Tribe) is a groundbreaking drummer and percussionist known for his contemporary Senegalese drumming and ability to transcend genres.
His sample pack is an extension of who he is as a musician. The samples have all been physically played by him. This makes them unique and authentic.
The samples can be used in any DAW on both Windows and macOS machines. You can download the pack by adding it to your cart on his website and checking out. The folder can then be extracted and imported into your DAW library.
While the Tech Hose Real Percussion Sample Pack is a Black Friday freebie, you can also download his Full One Man Tribe Catalog bundle for an 80% discount. It contains 1424 one-shots and 1463 loops. The size
There are many other lucrative discounts on his website.
The Tech House Real Percussion Sample Pack is available for a limited time so grab it while you can.
Download:
Free Tech House (223.3 MB download size, ZIP archive containing audio recordings in WAV format)
---
↑↑↑ 上方链接直接到达 ↑↑↑
资讯出处:FREE Tech House Real Percussion Sample Pack From Ben Aylon - Bedroom Producers Blog