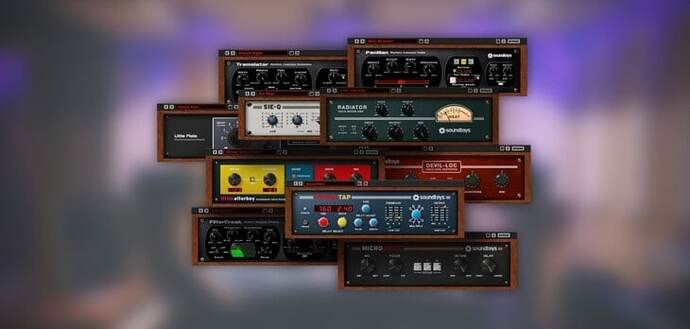 Soundtoys launched the Holiday Sale, offering massive discounts on bundles and plugins (prices starting at $29). The sale ends on January 12th, 2022.
If you want to go all out during the sale, you can get the Soundtoys 5 bundle for $299 instead of $499.
The Soundtoys 5 bundle includes all 21 Soundtoys plugins and the Soundtoys Effect Rack. You can create custom effect chains using the Effect Rack, which integrates fourteen individual Soundtoys effects. It's a great way to set up your ideal rig for specific projects. It also has global controls that allow you to treat the entire rack as a single plugin when necessary.
The Effect Rack comes with a range of presets that provide an excellent foundation for your sound.
BPB editor Tomislav shares his thoughts on the Soundtoys Effect Rack:
"I use the Effect Rack in every single sound design project. The ability to save custom FX presets that combine 14 different creative effects was a gamechanger for my sound design workflow. I have all my favorite FX chains stored and ready to load whenever needed. This helped me so much while working on Inferno SFX and other projects."
I think the Soundtoys 5 bundle could be a workflow enhancer and with so many good plugins around, speed and ease of use are often key factors.
If you don't want to go for the bundle, you can cherry-pick individual plugins at over 70% off.
No developer will ever please everyone, but Soundtoys plugins are top-rated.
Some of the most talked-about plugins are EchoBoy (EchoBoy Jr), Little AlterBoy, and Devil-Loc.
EchoBoy ($79 – usually $199) has been around for years, and it's still one of the most-loved delay plugins today. It focuses on emulations of vintage delay units, including Roland's Space Echo RE-201, Electro-Harmonix Memory Man, and many others.
Little AlterBoy ($39 – usually $99) is a Monophonic Voice Manipulator that I heard mentioned by many EDM, Hip-Hop, and Pop producers before I ever saw it. People commonly use it for that hard tune effect that seems infinitely on the verge of not being cool anymore (right now, it's still cool, commercially speaking).
Devil-Loc ($29 – usually $79) is a plugin that I first heard about when watching Pensado's Place on YouTube years ago. It's an audio level destroyer that offers extreme compression and distortion.
The vintage Level-Loc microphone compressor inspired this simple two-knob plugin. Level-Loc units were commonly used in churches to ensure clear and crisp speech during service. Like many units, the Level-Loc's appeal came from being misused, and it's that bad-boy side that Soundtoys has captured – Devil-Loc seems a fitting name.
Check out the complete list of plugins in the Soundtoys Holiday Sale.
More info:
Soundtoys (Holiday Sale ends on January 12th, 2022)
---
↑↑↑ 上方链接直接到达 ↑↑↑
资讯出处:Soundtoys Holiday Sale (Up To 70% OFF) - Bedroom Producers Blog