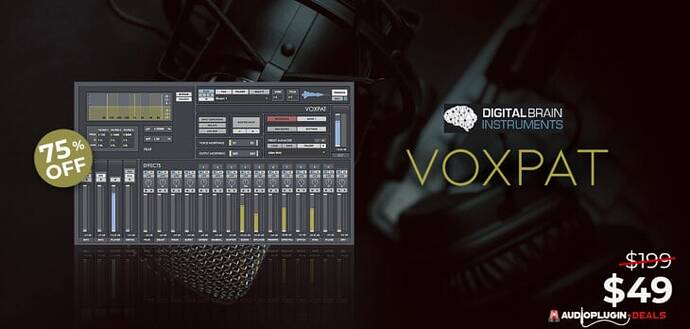 AudioPluginDeals is offering a 75% discount on Digital Brain Instruments's VOXPAT plugin, so you can get this next-gen audio processing tool for just $49 (originally $199) right now! The offer is valid till February 2nd, 2022.
The deal doesn't just end there – $24.50 will be added to your rewards wallet just after you complete your order, which you can freely use for any other product in the shop.
We previously reviewed VOXPAT and really loved its capabilities. Since then, it has only gotten better and more extensive in functionality.
VOXPAT is an audio manipulator and multi-FX plugin that can basically turn any audio into something else entirely. It's super useful for creative content applications and audio production for films, TV, and games, but finds its own use in music too.
VOXPAT can process audio input from up to two microphones, four audio samples, and/or a virtual instrument, all at once. Then it can run them through up to 14 effect racks in parallel. This makes VOXPAT quite unique, and results in a rich, layered sound.
This plugin has multiple audio convolution effects. For one, the 'Noiser' can add white noise and FM noise to the audio. Then there is the 'Mammal,' a mammal throat emulator and perhaps the most important effect that can replicate the sound of a scary monster or a dinosaur.
The Plugin Morpher is used to manipulate the sound coming from another VST plugin used as the signal carrier. On the other hand, the Sample convolver can multiply up to four audio samples to produce a unique sound according to your needs. And there is also a dual-band ring modulator that adds a metallic color to the sound to give it a more 'mechanical' or even robotic feel.
There are also some pitch-shifting effects like a six-band granular pitch shifter and a spectral pitch shifter that can shift specific frequency bands. A delay pitch shifter has also been included. These can lead to some interesting results, such as when trying to make an alien-like sound.
On top of all this, the effects racks also come with further tweakable parameters like an LFO knob, panning knobs, and an EQ so you can mix the audio right in the software.
Here's an in-depth video that explores VOXPAT's potential:
VOXPAT comes as standalone software for both Windows and macOS (10.7 or later). It can run VST/AU plugins as a host, but it is not designed to work with any DAW. You can download a demo from the developer's website to test it out first.
Overall, VOXPAT is a professional multi-effect processor, and truly a gem for someone who's into sound design and audio production. While marketed to create 'monster and robotic voices', VOXPAT's feature-set allows it to do much more.
More info:
VOXPAT (75% OFF @ Audio Plugin Deals)
---
↑↑↑ 上方链接直接到达 ↑↑↑
资讯出处:Get 75% OFF VOXPAT By Digital Brain Instruments @ AudioPluginDeals - Bedroom Producers Blog