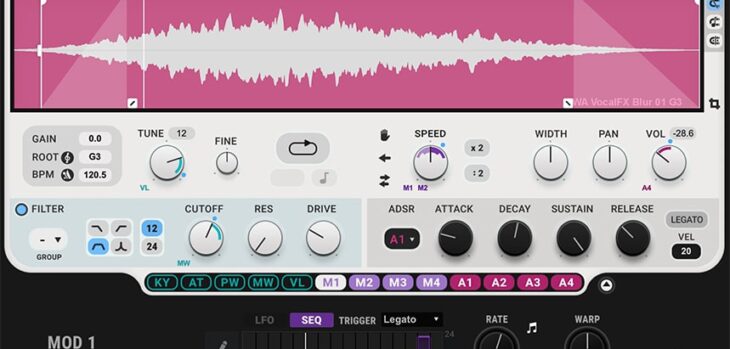 Waves Audio releases COSMOS, a freeware sample management software for Windows and macOS. The company also released CR8 Creative Sampler ($9.99 launch price), a creative sampler VST plugin.
COSMOS is a sample finder utility that scans all your audio samples and categorizes them into one database. The software will auto-detect and apply tags to each sample and loop using AI. You can then use the software to quickly search and locate any sample in your collection.
How is that better than using the plain old file search on your computer?
Well, COSMOS lets you search the samples by instrument, key, BPM, and other musical characteristics. This enables you to narrow down your search to drums, snare drums, or any other tag you have in place.
I try to keep my sample collection as tidy as possible, sorting all sample packs into folders by category (drums, orchestral, brass, etc.) and by sample label (Goldbaby, Wave Alchemy, 99Sounds, Flame Sound, etc.). But even so, finding a specific file can be a tedious task if you have hundreds of thousands of samples on your hard drive.
That's the problem COSMOS aims to solve, and I'm looking forward to testing the software. And if you're looking for more options, be sure to check out the ADSR Sample Manager, too.
"COSMOS brings all the one-shots and loops on your hard drive into one easy-to-search place. It uses advanced Waves Neural Networks technology in order to analyze, auto-tag, and sort your entire collection of samples into one unified database where you can easily find everything. No matter where you placed your samples, or how the files are named – COSMOS will find them for you."
One thing to keep in mind is that COSMOS doesn't yet support MP3 files. However, it works just fine with WAV, AIF, OGG, and FLAC files.
Waves Audio also released CR8 Creative Sampler. It's a creative sample player with eight layers with BPM detection, time-stretching, modulation, and a few other cool features.
It's not the most versatile sample player on the market, but it certainly looks like a fun little sample mangler.
"When you're cooking samples, you want to get creative quickly. The Waves CR8 Creative Sampler takes everything fun and exciting about sampling, and puts it all inside a fast, easy workflow."
CR8 Creative Sampler is currently on sale for $9.99 (the full price is $34.99).
Waves Audio runs a 50% OFF sale on all plugins and bundles this week. Use the code HALF to apply the discount to your order.
More info:
COSMOS / CR8 Creative Sampler / Waves Audio
---
↑↑↑ 上方链接直接到达 ↑↑↑
资讯出处:COSMOS Is A FREE Sample Finder By Waves Audio - Bedroom Producers Blog