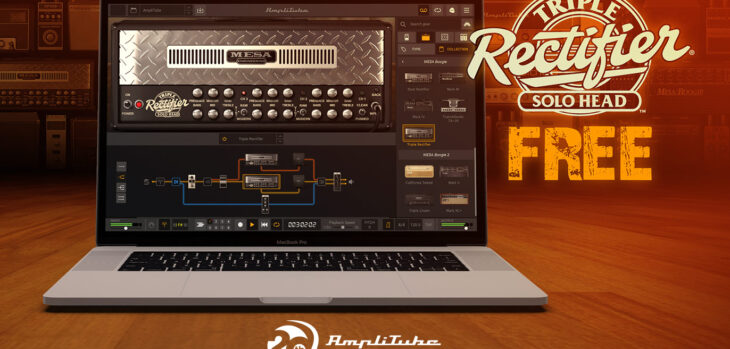 IK Multimedia offers the Mesa/Boogie Triple Rectifier head for AmpliTube 5 CS as a FREE download for a limited time.
The Mesa/Boogie Triple Rectifier head and 4×12 Recto Traditional Slant Cab for AmpliTube 5 are free until March 28th.
The offer is available to all AmpliTube 5 users, including the free AmpliTube 5 CS platform.
Although still going strong, Mesa/Boogie Rectifier amps already have a place in music history. They play an integral part in the sound of bands like Dream Theater and System of a Down. The aggressive amplifiers credits also include the iconic Black Album from Metallica.
Side note – producer of Metallica's Black Album, Bob Rock, sold his production rights to Hipgnosis Songs Fund. He sold his rights on a few Michael Bublé works, too, but I doubt they featured Rectifier amps; otherwise, we'd have a very different version of It's a Beautiful Day.
The Triple Rectifier head provides three channels and 8-mode operation, with a switchable tube/solid-state Rectifier section. Initially, if we go way, way back, the Triple Rectifier (hardware) was a two-channel amp. The update to three channels, also way back, gave the already popular amp a refresh and more versatility.
The Mesa/Boogie Triple Rectifier should appeal to a reasonably wide variety of guitarists with that in mind.
If you're looking for some free guitar pedal plugins, check out Nembrini Audio's Black and Clon Minotaur.
IK Multimedia is no stranger to giveaways; Syntronik V-80 is free until March 17th, and they recently released a free Custom Shop version of MODO Drum.
If you don't have AmpliTube 5 yet, download the free AmpliTube 5 CS. As well as giving you access to Mesa/Boogie Triple Rectifier, you'll get an impressive collection of amps, pedals, rack FX, and more.
Here are the instructions to redeem your free copy of MESA/Boogie Triple Rectifier for AmpliTube 5:
Log in or register a new IK Multimedia account, then visit yourUser Area;
Follow the pop-up message to Redeem your promotional item and subscribe to theNewsletter;
Download and open theIK Product Manager software;
Select "Manage My Products", then using the "Software" tab click the " Install" and "Authorize" button to the right of AmpliTube 5;
If you're already authorized, hover over the Authorize button and click "Re-Authorize";
Launch AmpliTube 5 on your computer;
Select the Amp section icon on the right-hand side, click "Collection" and then click on the MESA/Boogie icon to access the amps;
Enjoy your new gear!
Unfortunately, while IK Multimedia's AmpliTube 5 does a great job sounding like legendary amps, it does very little to make me sound like a guitarist. But, if I can get something good from it, you (proper) guitarists out there should love it.
Don't let the March 28th deadline put you off downloading it straight away. The best way to make me forget to download a freebie is to give me lots of time to do it!
Download:
Mesa/Boogie Triple Rectifier (FREE until March 28th, 2022)
---
↑↑↑ 上方链接直接到达 ↑↑↑
资讯出处:IK Multimedia MESA/Boogie Triple Rectifier Head Is FREE Until March 28th - Bedroom Producers Blog