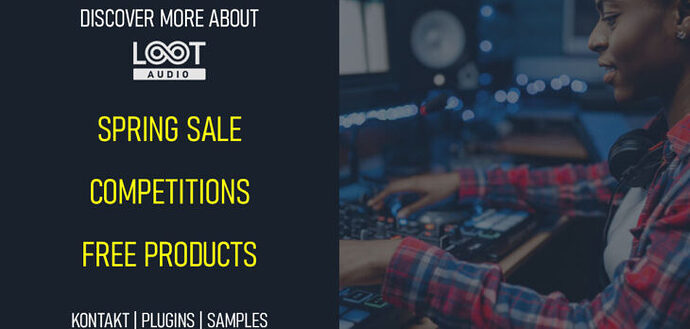 Loot Audio announces the Spring Sale, offering discounts and special offers on Kontakt libraries and sample packs. Learn more about the best deals, freebies, and giveaways currently available at Loot Audio.
Loot Audio has been around in different forms for over a decade. Some may remember it as KontaktHub. Others may remember it as Sampleism.
Either way, they've been in the business longer than most, specializing in Kontakt Instruments, Plugins, and Sample Packs.
With their Spring Sale now in full flow, there has never been a better time to get stuck in and see what you can find. They have offers from some of the biggest brands and developers (such as Soundiron and Baby Audio) as well as wonderful niche libraries from independent sound designers (like Beautiful Void Audio and Synthmagic)
While deals like 80% off Ergo Kukke's Trails and 60% off Pitch Innovations' Fluid Pitch are a no-brainer, it's the OMNIS Bundle that blows the rest out of the water. If 70% off a bundle that expands over 20 products, with more being added upon release, isn't enough, purchasing this bundle automatically enters you into a raffle to win a brand new 16-inch Macbook Pro worth $3899.
If budget is your concern, they've got you covered on that front too.
Just by signing up for their newsletter, you'll be entered into a giveaway to win a free copy of Sound Particles Pro (RRP $990).
It's also a little-known secret that while also offering a 3% return on every single purchase in the form of store credit, Loot Audio has a large selection of free products that can be downloaded directly from the site. In fact, there are over 100 free products mainly concentrated in the Kontakt Instruments and Sample Packs sections, with a few free plugins up for grabs, too.
Here's a quick list of our top 10 Freebies on Loot Audio:
You can find all the freebies in each section by clicking the links below:
Make sure you are logged in, then click the 'Claim Freebie' button. Next, visit your account and go to the freebies section to view and download your claimed freebies.
The Loot Audio website is split into sections, so it's easy to find what you are looking for, and each section has two specific URLs where you can find Latest Releases and Current Deals in list format for easy viewing.
For example, the latest Kontakt releases can be found here, and current Kontakt deals can be found here. Each list can be sorted by clicking the column titles so you can easily find the specific label, discount, or the price you are looking for.
With over 1,000 Kontakt Instruments, 5,000 Sample Packs, and an ever-growing collection of Plugins, there's a lot to explore, so we created the 'list view' to make it easier to browse the site.
You can access each individual section of the site using the large buttons, and once inside a section, you can further filter and browse using the menus.
You can find out more about Loot Audio here, and you can follow Loot Audio on socials to stay up to date with the best deals coming out of their spring sale!
More info:
---
↑↑↑ 上方链接直接到达 ↑↑↑
资讯出处:Freebies, Competitions & Sitewide Discounts In Loot Audio's Spring Sale - Bedroom Producers Blog