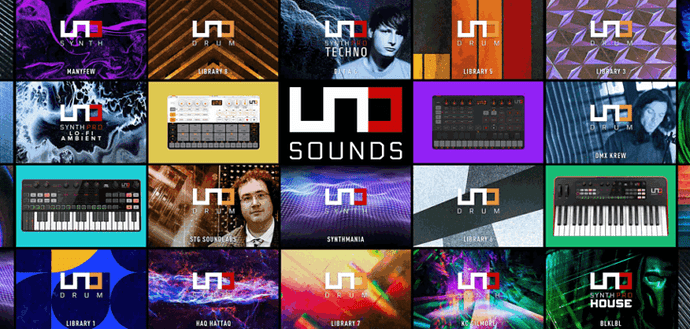 IK Multimedia launches UNO Sounds, a collection of FREE sounds for UNO instruments.
UNO Sounds is a collection of more than 600 sounds for the UNO Synth, UNO Synth Pro, UNO Drum.
The carefully curated sounds include collections from various artists, DJs, and sound designers. UNO Drum users can enjoy new vintage kits from some iconic brands.
The creators who contributed to UNO Sounds include HaqAttaq, DJ T.A.G, and STG Soundlabs.
All registered users can download UNO Sounds for free from the IK Product Manager. After making sure you are running the latest firmware, you can download all sounds via the correct UNO product editor.
I'm very happy about this release for a few reasons. The first reason is that IK Multimedia plan to do this kind of thing more regularly, which means we can expect more updated/free sounds in the future.
The second is that I have a UNO Drum, and it appears to be the biggest recipient of new sounds from this collection. That's not to say the synths don't get plenty, too; they do.
I'm a touch late to this one, but I'm looking forward to spending some time with it. I tend not to complain about sound quality in IK products, whether free or paid, so I have pretty high hopes for UNO Sounds.
My own high hopes aside, I think most users (that I know, at least) agree that the sound quality is typically stellar from IK Multimedia. If there are any complaints, they tend to center around the IK Product Manager and install/download process.
For me, it's a bit of a mixed bag because, while I've seen things that could improve, I've never had a terrible experience or close to it (I reserved that for the Steinberg Download Assistant).
However, I've heard complaints from people whose opinions I trust, so I guess it's a fair discussion. In my opinion, the process continues to improve. In the case of UNO Sounds, having them all together in the IK Product Manager is more streamlined than individual sound bank downloads.
I hope IK Multimedia makes a regular habit of releasing new sounds. If you're a UNO user, you can share your creations with the hashtags #UNOSynth, #UNOSynthPro, or #UNODrum, and you might get featured on IK Multimedia's socials.
More info:
---
↑↑↑ 上方链接直接到达 ↑↑↑
资讯出处:IK Multimedia Launches FREE UNO Sounds Repository - Bedroom Producers Blog