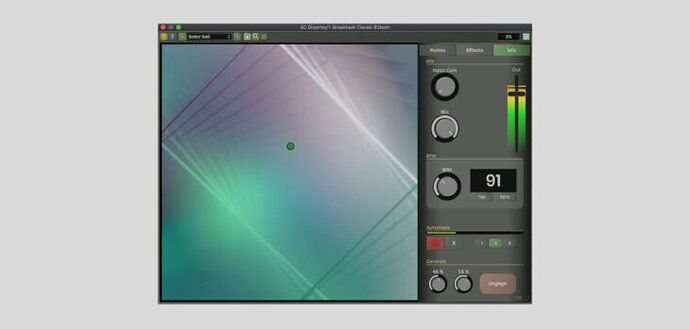 Stagecraft Software offers the Disarray multi-effect VST plugin as a FREE download until April 18th, 2022.
Disarray is a multi-effect inspired by the legendary Kaoss Pad. It includes a variety of effects that you can combine and control using the provided XY pad.
There are many effects to choose from, including chorusing, a bitcrushing, reverb, ring modulation, flagging, gain, etc. But the built-in effects are just the tip of the iceberg since Disarray lets you load third-party plugins as effects.
I haven't tested this functionality thoroughly, but the developer claims that Disarray can load any third-party plugin and use it in tandem with the pre-loaded effects.
The plugin also supports automation and presets. You can save your favorite FX combos as presets for later use.
Disarray is a capable sound design tool that delivers some fun FX combinations. Of course, its coolest feature is the XY pad which lets you control multiple FX parameters simultaneously.
However, I'm hoping that the user interface will be improved in a future update. The current version feels laggy, and I encountered a few graphical glitches in Studio One. For example, when I tried to resize the GUI by clicking and dragging the bottom-right corner, it decreased in size instead of getting larger.
Stagecraft Software offers the Disarray plugin as a freebie for a limited time only. Sign up now to claim a free plugin license (the free licenses are permanent).
To claim your free license, you'll need to download and install the plugin on your computer. Launch the plugin, enter your email address, then click the Free Serial button to receive a serial number in your inbox. You can then use the serial key to activate the plugin.
Unfortunately, the download page looks somewhat confusing, with a large plugin screenshot in the background and grey-colored text in front. It's a bit hard to read, but the download button is pretty easy to find.
I usually wouldn't criticize a website for its design, but I'm writing this so that you don't get discouraged by the poorly designed product page. Disarray is worth the download, even though the download page doesn't look professional.
The free download offer ends on April 18th. There's no official information about the pricing after the free offer expires.
Disarray is available in VST3, AU, and AAX plugin formats for digital audio workstations on Windows and macOS. Only 64-bit plugin hosts are supported.
Download:
Disarray (14.1 MB download size, EXE installer, FREE until April 18th, free licenses don't expire)
More:
---
↑↑↑ 上方链接直接到达 ↑↑↑
资讯出处:Stagecraft Software Disarray Multi-FX Plugin Is FREE Until April 18th - Bedroom Producers Blog