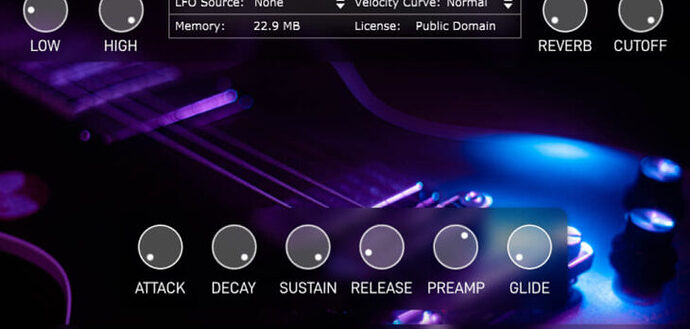 SampleScience releases Clean Electric Guitar, a FREE sample-based plugin for macOS and Windows.
SampleScience has sampled two electric guitars note by note to create this free plugin. The samples are intended to provide users with public domain electric guitar sounds to feed virtual guitar amplifiers and effects racks.
The main features include a Multi-LFO with selectable Wave, Target, and Source. You also get a Highpass/Lowpass filter and three different voice modes: Polyphonic, Legato, and Mono.
Also, in the main control section, you'll find an adjustable velocity curve. Depending on your controller, often overlooked features like this can make a significant difference.
There are four knobs on each side of the main section. To the left, you have Depth, Rate, Low, and High.
In a recent post, SampleScience clarifies the function of the Low/High knobs by saying, "They are not EQ settings, but amplitude & velocity range controls. A narrow range = loud. A wide range = quiet."
You have Pan, Volume, Reverb, and Cutoff to the left.
Lower down the GUI are the usual ADSR controls and Preamp and Glide.
If you've used any ScampleScience plugin before, you'll see Clean Electric Guitar follows the usual straightforward GUI layout.
Sometimes a developer comes up with a layout that's more form than function, and they stick with it, and it can be an instant turn-off. Luckily, SampleScience has found something that works and doesn't stray too far. It's also a good example of how a simple interface can look great.
If you need some guitar amp/effect freebies to pair with Clean Electric Guitar, look at STR-X from Arboreal Audio and The Klone by Fazertone. IK Multimedia often run Amplitube freebies/promos, too.
The Canada-based developer has already given us multiple freebies and shows no sign of slowing down.
Previous releases include Rusty Piano and Retro Cazio.
Clean Electric Guitar is available in 64-bit VST, VST3, and AU formats for macOS (El Capitan upwards) and Windows (8.1/10/11).
Download:
More:
---
↑↑↑ 上方链接直接到达 ↑↑↑
资讯出处:SampleScience Releases FREE Clean Electric Guitar - Bedroom Producers Blog