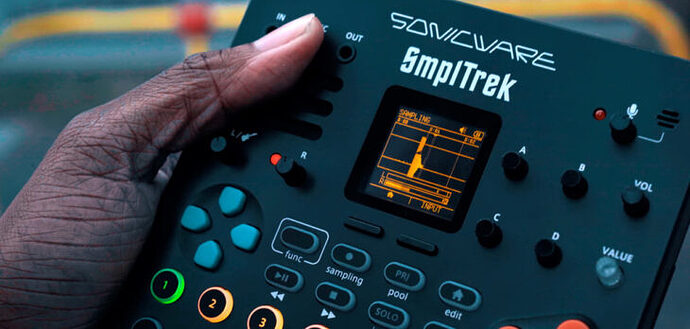 Sonicware Kickstarter campaign offers early discounts on the SmplTrek portable production sampler.
Sonicware has launched a Kickstarter campaign for their newest development, the SmplTrek.
At first sight, SmplTrek looks like the Nintendo GameBoy of portable sampling. Retro gamers will instantly recognize the D-Pad and Clear/OK buttons as very Nintendo-like.
It packs quite a lot of features for a small unit, so I'll briefly run through the main ones.
Right at the heart of everything the SmplTrek does is a handy little OLED display. The OLED display should make all kinds of editing quick and easy (while saving battery life).
The appeal of a device like this one is to capture and create sound anywhere; SamplTrek has a built-in microphone and speaker. So, you don't need to plug in a microphone and don't need headphones for playback.
Beyond the basic transport controls, the small unit boasts an abundance of multi-function knobs and buttons. You can use the sixteen numbered buttons to select scenes or to step-sequence.
Finally, you have fifteen velocity-sensitive pads that act as drum pads, sample triggers, or a keyboard.
You can assign sampled sounds to the pads with auto-slicing or manually chop your sample using the OLED display. Sonicware has covered most bases in terms of convenience; samples can use internal effects, be resampled, and tempo/key-matched to your song.
Song projects consist of sixteen scenes containing ten sequencer tracks (Loop Tracks, Shots Tracks, Drum Tracks, Instrument Tracks, and MIDI Tracks). Three Global Audio tracks are also available.
The device ships with over 500 high-quality sample sounds and over 100 drum kits to help get you started.
Flexible connectivity allows you to connect instruments, a microphone, and output audio via stereo line outputs or USB, and there's MIDI in/out.
SmplTrek seems a good way to make sure you never miss an opportunity to capture something creative. The production and editing options should make it ideal for recording ideas, making finished songs, or even live streaming. Check out the Kickstarter page to get the whole picture.
There are other mobile samplers like Roland's SP-404MKII, which seems to be well-liked, but I haven't used it myself. I tend to travel with some variation of an MPC and a few recording devices like little Zoom recorders or a Mikme microphone.
If the SmplTrek interests you, rush over to Kickstarter now as some pledge rewards expire in a few days.
You can pledge any amount without reward to support the project.
Pledging around $300 will get you a SmplTrek with a discount of over $100 (retail price $429). This limited availability pledge expires on April 30th.
You can get a $30+ discount by pledging around $370 (standard Kickstarter price).
A pledge of around $550 will get you two units – limited availability.
The very early bird rewards are no longer available. The prices quoted above are approximate and may change slightly based on the USD-JPY exchange rate.
More info:
Sonicware SmplTrek (Kickstarter)
---
↑↑↑ 上方链接直接到达 ↑↑↑
资讯出处:Sonicware SmplTrek Is On Kickstarter (1 Day Left To Pledge $300) - Bedroom Producers Blog