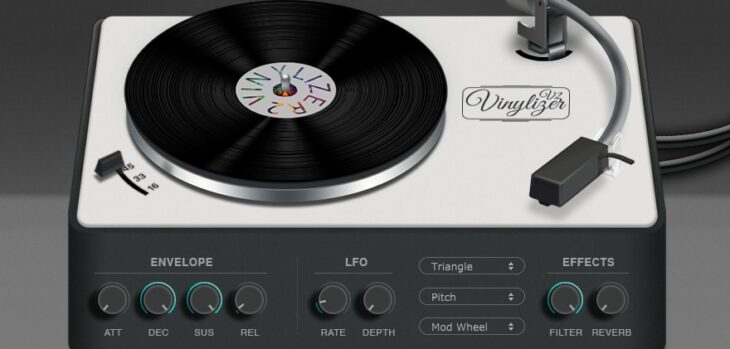 Time to add some vintage flair to your tracks! Until May 7th, Thenatan and Sanjay C are offering the Vinylizer V2 lo-fi texture plugin for FREE.
Thenatan is known amongst trap and hip-hop producers for its high-quality plugins. The Vinylizer V2 plugin fits right into these genres and gives you a retro-sounding vinyl sound that will add interesting texture to any track.
Often, when producers want to add vinyl crackle/distortion to their track, they layer in pre-recorded samples. This plugin works differently.
Vinylizer V2 allows you to create a wide variety of adjustable sounds and control them from your midi keyboard.
The ability to control this plugin in midi means that you can customize your vinyl sound and then have it playing organically as long as you'd like.
Essentially, no need to continuously loop pre-recorded samples of record players, radio static, etc.
Vinyl distortion and retro sound effects are highly prevalent in all modern music genres. The Vinylizer V2 comes packed with a fair amount of preset textures ready to use on your tracks.
Users can choose from over 50+ vinyl crackle/distortion presets controlled by your midi keyboard.
Each preset can be pitched up or down according to what note you play on your keyboard. This makes it easy to get a vinyl sound that fits well into the key of your track.
Additionally, the plugin features a variety of other controls to modify your vinyl sound. There are nine layers, such as rain or 8 bit, that can be controlled by their respective dry/wet knobs.
Vinylizer V2 also offers basic ADSR controls along with an LFO and some basic filter and reverb controls.
It's pretty easy to get the Vinylizer V2. Follow the product link to the Thenatan website and add the plugin to your cart. Once there, apply the coupon code SanjayCFree. The code will bring your total to zero; check out as you would usually, and you'll receive the download link!
Vinylizer V2 works on macOS Mavericks 10.9.5 and above and Windows 7,8,10, and above. It is compatible with most major DAWs except for Pro Tools. Only 64-bit plugin hosts are supported.
Download:
Vinylizer V2 (FREE until May 7th with coupon code SanjayCFree)
More:
---
↑↑↑ 上方链接直接到达 ↑↑↑
资讯出处:Thenatan Vinylizer V2 Lo-Fi Texture Plugin Is FREE Until May 7th - Bedroom Producers Blog