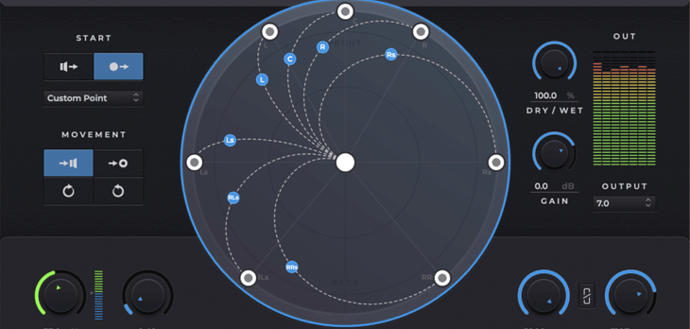 ADSR Sounds offer the Energy Panner ($49 value) plugin by Sound Particles as a FREE add-on with any purchase this month.
Throughout May 2022, you'll get a FREE copy of Energy Panner with any purchase at ADSR Sounds.
The offer comes only two weeks after Sound Particles gave away Energy Panner in collaboration with Sound On Sound. If you missed the previous offer, here's your second chance to claim the freebie.
The dynamic 3D, particle-based panning plugin usually costs $49, so there's a decent saving to be made with the right purchase.
If I'm honest, a panner plugin isn't typically something to get people overly excited. That's not to say panning isn't important or effective; it's just that it rarely comes with any surprises. Energy Panner, however, could be worth getting excited about, thanks to its unusual approach and some smart features.
The idea behind Energy Panner is for the movement to be a direct response to the intensity of the sound. If we want to add movement to a complex synth sound, it's likely to sound more natural and accurate if reacting to the synth's behavior. It's also an excellent way to add another rhythmic element to your project.
We could do something similar through automation, but it depends on us making sure everything is in the right place at the right time, which gets tedious.
Energy Panner has two function modes, Panning Mode and Sliding Mode.
Panning Mode is described as normal end-to-end particle-based panning. The sound source moves between the user-defined start point and endpoint in this mode. As the sound intensity increases, the movement shifts towards the endpoint and returns to the start point when the intensity decreases.
Sliding Mode is slightly different because the sound source doesn't return to the start point when the intensity drops. Instead, it moves on your chosen trajectory when the level threshold is met. When the level drops below the threshold, the sound source will freeze its current position until the threshold is met again, when it will begin another movement on the same trajectory.
You can use external signals to control the movement with the Sidechain feature to change things up a little. There's also a handy Randomization function.
Energy Panner features Stereo, Immersive, and Binaural Outputs. Immersive is the keyword for this plugin and even the short audio examples on the product page show the immediate, immersive effect.
It could save many users a lot of time, particularly those who work on video/film projects looking to grip an audience. Pair it with the free Cinematic SFX pack, and you're good to go!
Energy Panner is available in AU, VST2, VST3, and AAX formats for macOS (10.11 upwards) and Windows (10 upwards).
Download:
Energy Panner (FREE with any purchase @ ADSR Sounds)
More:
---
↑↑↑ 上方链接直接到达 ↑↑↑
资讯出处:Sound Particles Energy Panner Is FREE With Any Purchase @ ADSR Sounds - Bedroom Producers Blog