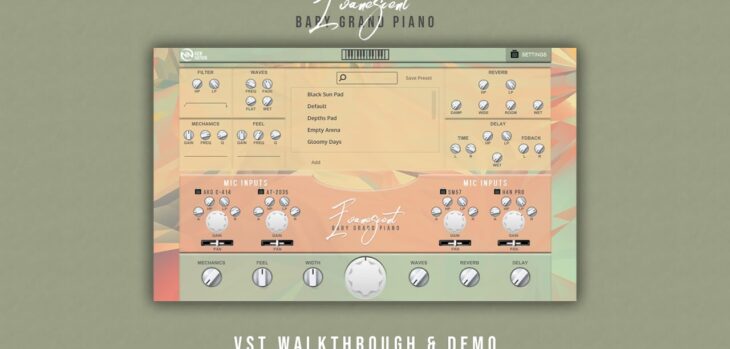 For the next 17 days, users can get Evanescent, a sampled virtual piano instrument, for FREE ($14 value).
An excellent virtual piano instrument is essential to every producer. Evanescent allows musicians to create accurate sounding piano sounds by sampling real pianos recorded by not one but multiple microphones.
Samples within this plugin have been recorded with four well-known microphones, giving you a wide range of variables to control and hone your desired sound.
The interface of this plugin is pretty simple. At the top is an array of basic FX such as an HPF, LPF, and Reverb/Delay. The developers even claim that they feature basic effects because it "allows you to use the FX you're already familiar with."
Users can then select between popular mics such as the AKG-414 and Shure SM57 (easily one of the most famous instrument mics).
Evanescent makes it easy to combine these microphones and choose your desired gain, pan, etc.
The result is a powerful and rich piano sound that takes unique elements of each mic and puts them all together into one unique sound.
Once the mics are selected, one final master FX panel controls modifiers such as reverb, delay, feel, and width.
There are ten factory presets to choose from for those who want great sounds right out of the box.
I found that presets such as Depths Pad could easily add a rich texture to tracks in various genres such as deep or progressive house.
Evanescent was designed to be very easy on your CPU, which is great for producers who want a quality sampled grand piano instrument that doesn't overload their computer as many other popular samplers do.
Download and installation of this plugin are reasonably straightforward. Follow the link to the VSTALARM website, add Evanescent to your cart, and follow checkout instructions. You'll then receive an email that directs you to the New Nation website.
Repeat these steps mentioned above on the New Nation website, apply the discount code provided in the email, and you'll receive download/installation instructions!
Evanescent works on Mac/Windows with any DAW that accepts VST3 and AU plugin formats.
Download:
Evanescent Baby Grand Piano (free until June 9th)
More:
---
↑↑↑ 上方链接直接到达 ↑↑↑
资讯出处:Evanescent Baby Grand Piano Is FREE For A Limited Time - Bedroom Producers Blog