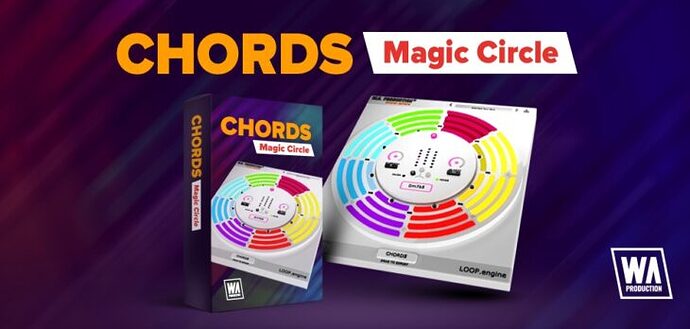 VSTBuzz is running a new deal where you can get Chords, an intuitive chord progression building tool, at just €29 instead of €125 (a huge 77% discount!). Plus, you'll get Combustor, a saturation and compression plugin worth €25, for FREE with this purchase. The deal is valid until August 11th, 2022.
Chords is a standalone workstation that allows you to quickly generate and edit chord progressions. You can create single chords or progressions up to 8 chords in length and easily export them into your DAW for further use. It has plenty of presets and controls that are quick and make it easy to start a new project, especially when you are in a creative rut.
Chords has a very visual workflow, with the circle at the center of the display dedicated to representing and editing the chords or progressions you are working on. You can edit the chords at two levels — one is at the level of the progression itself with four controls: Key, Length, Speed, and Inversion. The second level lets you edit individual chords.
Individual chords in a progression have controls like Inversion, Velocity, and a Major/Minor toggle. You can also set the complexity of the chords from the simplest 3-note chords to more intricate and jazzy ones with 7 notes. Adding or subtracting chords from the progression is as easy as clicking on the plus and minus buttons on the borders between individual chords.
The segments themselves are subdivided to represent each note being played, which can all be muted individually. There is also a toggle to switch between chord types, ranging from Tonic to Subdominant and Dominant; this adds another layer of complexity to the individual elements of each progression. All these controls make Chords far more useful than a vanilla chord generator.
The UI is easy to navigate with a clean and simple look. The chords are represented by their own vibrant hue, so it gives you instant visual feedback on the current progression. Exporting them is fast and easy — just press and drag from the bottom of the Chords interface to your DAW and onto a track.
Combustor, while being a much more affordable plugin, is a neat and handy tool. You can use the presets to quickly apply some simple compression and saturation, or you could go much deeper and take control of a variety of settings, including a toggle between six different characteristics that are modeled after different analog systems. Certainly a useful free addition to an already great plugin!
And if you're not sure about buying it yet, both Chords and Combustor have a 10-day trial available at W.A. Production's website.
Get the deal: Chords (77% OFF + FREE Combustor)
---
↑↑↑ 上方链接直接到达 ↑↑↑
资讯出处:Get 77% OFF W.A. Production Chords + FREE Combustor @ VSTBuzz - Bedroom Producers Blog