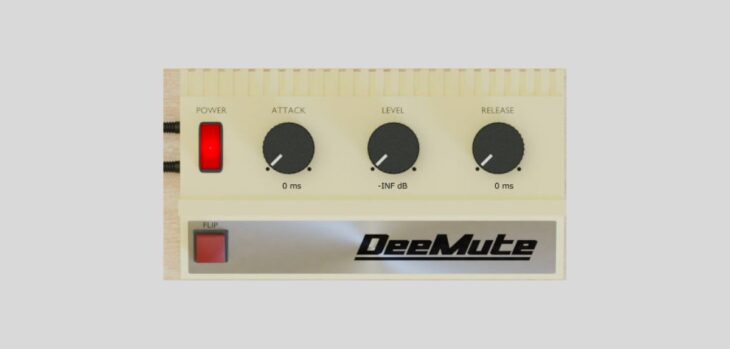 Dotec-Audio offers DeeMute, a FREE stutter effects plugin for macOS and Windows.
Dotec-Audio isn't a developer that I'm familiar with, but a quick look at their marketplace shows me they have a bunch of products on offer, some paid and some free.
The freebies include DeeMute, DeePanpot, DeeGain, and DeeSpeaker.
We're focusing on DeeMute, a simple but effective stutter plugin that can manipulate audio triggered by MIDI notes in a few ways.
DeeMute will mute or invert the audio triggered by MIDI notes to create the stutter effect.
Plugins like this often remind me of being a young student with no genuine interest in audio plugins yet (insert whole-tone scale dream sequence).
As a pianist, I used to think I should play every note by hand, and when I saw people draw in MIDI whole notes and then use plugins to chop, stutter, or arpeggiate them, I didn't get it. If I could, I think the teenage me felt some sense of achievement in playing stuttered synth rhythms or fast arpeggios myself.
Of course, not too much further down the line, I realized no one cared how you made the sound, and I'd just wasted a lot of time, but we live and learn.
DeeMute provides an easy way to turn those MIDI notes into something more interesting, which could be cool for any EDM producers out there.
It can also reverse the mute operation via the Flip button, and Attack/Release controls are handy for ducking effects. So, as well as stuttered, glitchy sounds, you can create nice electronic bass patterns from just a few MIDI notes.
While we're talking about electronic music, you can go old-school with the free Pneuma synth plugin from Ronan Fed.
DeeMute is available in AU, VST, VST3, and AAX formats for macOS (10.12 upwards) and Windows (7 upwards).
Download:
More:
---
↑↑↑ 上方链接直接到达 ↑↑↑
资讯出处:DeeMute Is A FREE Stutter Effect Plugin By Dotec-Audio - Bedroom Producers Blog