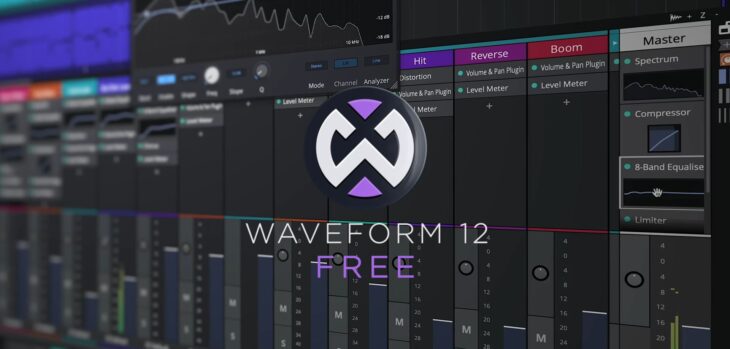 Tracktion Corporation releases Waveform Free 12, an updated version of its free digital audio workstation for Windows, macOS, and Linux.
Waveform Free is one of the best free DAWs at the moment, along with Cakewalk by Bandlab. It's not easy to decide which of the two is the best, but the latest update brings Waveform Free a few steps closer to the throne.
Like its predecessors, Waveform 12 Free offers all the features needed to produce and master a track from scratch. It's a free version of Tracktion's flagship Waveform software, but there are no demo-like limitations in terms of functionality. You won't experience any timeouts, track count limitations, rendering restrictions, 3rd party plugin limitations, or similar nags found in other "free" editions of paid commercial DAWs.
Waveform Free can load third-party plugins in VST2, VST3, and AU formats, so you can keep using your favorite mixing tools and virtual instruments even if you decide to switch DAWs.
Which brings us to the all-important question – what has changed in Waveform 12 Free?
The latest version of Tracktion's free DAW comes with an improved GUI which incorporates high-resolution graphics, a new file browser (with tags, favorites, and smart content lists), and a unified properties/actions panel. The refreshed GUI certainly looks better but also brings valuable workflow enhancements.
In the DSP department, Waveform 12 Free has a completely rewritten audio engine with improved CPU performance, fifteen refreshed audio effects, six new mixing utilities, a new rompler instrument, and various workflow improvements. We all enjoy using VST plugins, but it never hurts to have a DAW with powerful native effects and instruments.
All things considered, Waveform 12 Free is now more feature-packed and intuitive than ever. Waveform Free was always a powerful free DAW, but the latest edition provides a complete package. It is the perfect starting point for beginners who want to produce music using freeware tools.
Speaking of which, the home screen now includes a Tutorials panel where new users can find a range of helpful videos to speed up the learning process. The DAW also comes with a set of project templates so that beginners can quickly jump in and start recording their songs.
To be fair, though, Waveform 12 Free is far from a beginner-only DAW. It offers a variety of advanced music production and sound design tools, such as the Plugin Racks modular environment and the Pattern Generator for experimenting with sequences and chords.
Another aspect worth pointing out is that Waveform 12 Free is fully cross-platform, which makes it an excellent playground for collaboration. You can share projects with your friends regardless of the OS.
More info:
---
↑↑↑ 上方链接直接到达 ↑↑↑
资讯出处:Waveform 12 Free Released (Digital Audio Workstation) - Bedroom Producers Blog