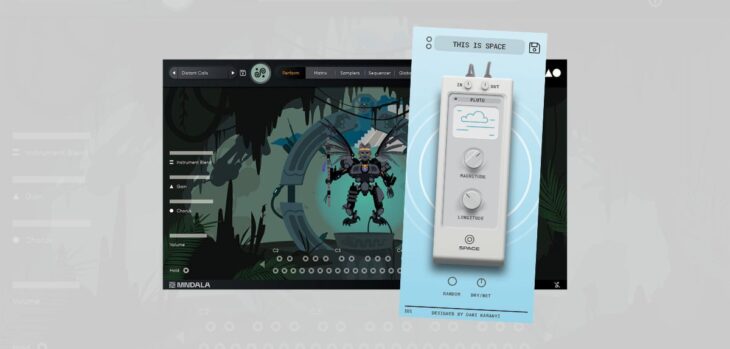 Plugin Boutique offers a choice of two FREE plugins with any purchase during September.
Plugin Boutique customers are in for a treat this month with a choice of two potential freebies. As a September Gift, Plugin Boutique offers Karanyi Sounds Space or MNTRA Instruments Huracan free with any purchase.
As usual, a qualifying purchase has to be a paid product, and you can't pay entirely with Virtual Cash or coupons (anything under 100% is fine).
Karanyi Sounds Space
We've previously covered a few Kontakt libraries from Karanyi Sounds, like Analog Tales and Vapor Keys. This time, we're looking at Space, a reverb effect that focuses on unique but natural-sounding reverberations.
Space is the little brother of the Poly Space plugin, and it shares the same minimalistic interface. Karanyi Sounds combine DSP algorithms and impulse responses to create an extensive set of presets covering large and small spaces.
Although focusing on natural-sounding reverberations, it's fair to say that Space gets a little bit other-worldly. While it still sounds organic, it's definitely one that excels in ethereal sounds.
Space is available in AU and VST3 formats for macOS (10.11 upwards – M1 Native not supported) and Windows (7 upwards).
MNTRA Instruments Huracan
Huracan from MNTRA Instruments ($98 value) runs on the MNDALA Engine, which features six complex samplers, 35 custom effects, and 62 real-time parameter controls.
Huracan comes with eleven unique wind instruments and five textural percussion sounds. All of the sounds are inspired by Mesoamerican and Andean cultures. It offers an interesting blend of ancient sounds and modern implementation.
One of the great things about very specific sounds, in this case, sounds inspired by South and Central American cultures, is that they often work exceptionally well in an unexpected context.
Huracan is a K'iche' Maya god of wind, storm, and fire, and everything from the sounds to the animated interface tells that story.
Huracan requires MNDALA V2.0.0, available in AU and VST formats for macOS (10.11 upwards – M1 supported) and Windows.
As always, a huge thank you to Plugin Boutique and the participating developers for these freebies.
More info:
---
↑↑↑ 上方链接直接到达 ↑↑↑
资讯出处:Plugin Boutique Offers A Choice Of Two Freebies With Any Purchase - Bedroom Producers Blog