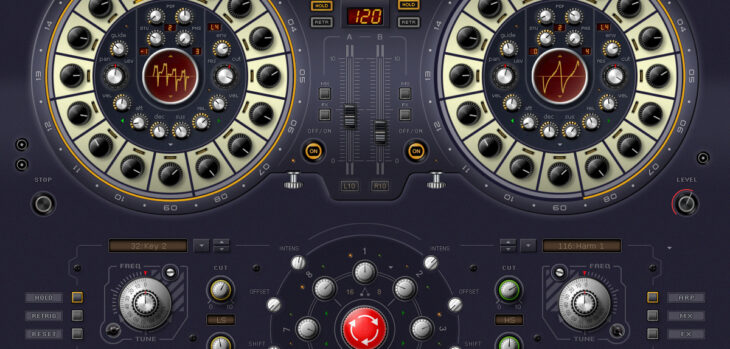 2MGT has just released Modularis, a FREE virtual plugin based on retro analog-style sequencers. Please note that it is only compatible with 32-bit VST2 plugin hosts on Windows.
Sequencers are an everyday staple amongst ambient, deep house producers, and many other genres.
Modularis features a dual-16 step sequencer along with a built-in synthesizer. The built-in synthesizer allows for creating some pretty unique sounds from one stand-alone plugin.
Each one of the 16-step sequencers has its own set of controls. There is also level control for the "A" and "B" sides.
The controls for each sequencer are nearly identical. To start, users select from various synth presets and can then determine their desired ADSR levels.
Additionally, each side contains an HPF, LPF, glide controls, and overall detune control. There is also a master BPM selector to choose at which tempo you want the plugin operating.
Users can then set the levels of each step on the sequencer wheel to their desired gain to get a groove of their choice.
Combining two independent sequencers allows for creating entire soundscapes within one plugin.
Within a short period of tweaking, it's easy to get a retro-sounding arpeggiator and a detuned, distant pad underneath. Great for those looking to produce in the ambient genre.
Rhythmically, Modularis has a set of controls such as velocity, intensity, and offset so that producer can add swing, groove, and form an interesting rhythmic pattern.
Another helpful feature of this plugin is its ability to control other MIDI synthesizers if you have virtual MIDI cable software.
Essentially, one could program their desired sequence and then route it to their favorite virtual synth to get the exact sound they're looking for.
Although Modularis contains synthesizers more geared towards ambient, EDM, and house producers, there is potential for more applications.
The ability to route this plugin to another virtual instrument means you could use it to sequence drum patterns and basslines and make whole song loops with only a couple of virtual instruments.
Currently, Modularis is only available in VST2 format and works with all DAWs that are 32-bit compatible. Those looking to use this plugin with a 64-bit host can use a converter such as Jbridge to make it 64-bit compatible.
Download:
More:
---
↑↑↑ 上方链接直接到达 ↑↑↑
资讯出处:Modularis Is A FREE Analog-Style Sequencer Plugin By 2MGT - Bedroom Producers Blog