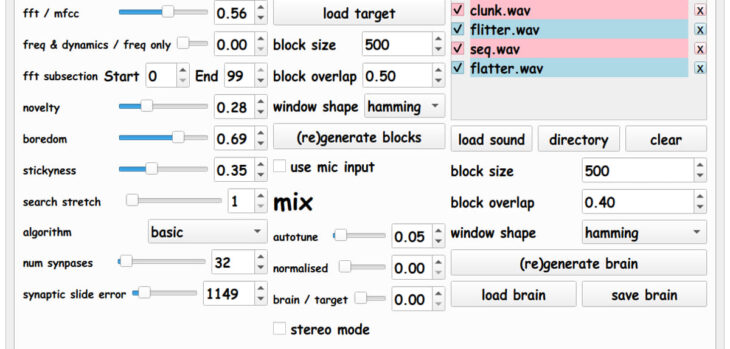 Then Try This releases Samplebrain, a free sample chopping and mangling tool designed by Aphex Twin.
Samplebrain is a sample mangling software program designed by Aphex Twin. It is a standalone application (not a plugin) for Windows and macOS.
So, how does Samplebrain work?
The software lets you load one sample as the "target sound" and multiple samples acting as the "brain contents." It then uses the "brain contents" to recreate the "target sound."
As the developer puts it, Samplebrain "allows you to interpret a sound with a different one."
For example, you can use several drum samples to recreate a guitar chord. Or, load several drum loops and let Samplebrain turn them into a vocal. So, it's somewhat similar to cutting up multiple images to create a collage, but in the audio realm.
Of course, the results will sound glitchy and weird, but that's precisely what makes Samplebrain such a fantastic sound design tool.
It's an interesting concept, and the resulting app is entertaining to use even in its current early state. Yes, the user interface features dozens of controls parameters that you won't instantly understand, but you really can't go wrong here. The idea is to try different samples and parameter settings until you're happy with the results.
Here's another quote from the project page:
"Samplebrain chops samples up into a 'brain' of interconnected small sections called blocks which are connected into a network by similarity. It processes a target sample, chopping it up into blocks in the same way, and tries to match each block with one in its brain to play in realtime."
Should you download this app? Samplebrain will surely inspire you to create new sounds while restructuring your favorite samples. It's not for everyone, but fans of glitchy sounds, digital noises, and Aphex Twin shouldn't miss this one.
If you're looking for some fun sounds to try experimenting with, check out the collections available at 99Sounds and the free cinematic sound effects by Flame Sound.
Need more glitchy audio tools? Check out the free TugGlicento plugin by 2Rule.
Samplebrain is available for free download via GitLab. The software is compatible with Windows and macOS, including the Macs powered by the new M1 chip.
Download:
More:
---
↑↑↑ 上方链接直接到达 ↑↑↑
资讯出处:Samplebrain Is A FREE Sample Mangling Tool By Aphex Twin - Bedroom Producers Blog