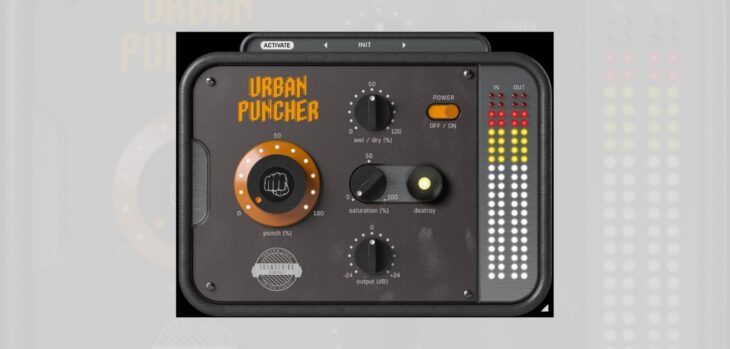 Plugin Boutique offers the Urban Puncher ($64) transient shaping and saturation plugin by United Plugins for FREE until October 31st.
Urban Puncher is a multi-effect designed for use on drums. It applies transient shaping, saturation, and distortion to the processed signal, resulting in a more aggressive drum sound that cuts through the mix.
The developers describe Urban Puncher as a plugin that will improve your drum sound even if "it still sounds bad after hours of mixing."
Looking at the GUI, it seems that Urban Puncher is capable of delivering on that promise. It's a simple design with an intuitive control layout that aims to speed up your mixing workflow.
Urban Puncher comes with just a few control parameters explicitly chosen to make drum loops sound more "punchy." The Punch control shapes the attack transients, the Saturation knob saturates the signal, and the Destroy knob triples the saturation intensity, resulting in audible distortion.
Another handy feature is the Dry/Wet knob which turns Urban Puncher into a capable parallel processing tool. You can use it to mix the heavily processed signal with the clean drums, resulting in a perfectly balanced sound.
One might ask, though, why not simply use a freeware saturation plugin (such as BPB Saturator) and a transient shaper (like T-Puncher Free) instead of Urban Puncher? It's a valid question, but the answer largely depends on one's preference and workflow.
If you're looking to speed up your mixing workflow as much as possible, having a tool that handles multiple mixing tasks simultaneously is a good strategy.
Urban Puncher is FREE for a limited time, exclusively at Plugin Boutique. Use the coupon code UPFREE at checkout to get the plugin free of charge.
Here's the complete walkthrough on how to get Urban Puncher for free:
Visit theUrban Puncher product page on Plugin Boutique and add it to your shopping cart;
Proceed to checkout;
Enter the required information (or log in to your Plugin Boutique account to speed up the process);
Apply the coupon codeUPFREE;
Complete the checkout.
And voilà! Urban Puncher is now available in your Plugin Boutique user account. Access your user area to get the download link and the serial key.
Urban Puncher is available in VST, VST3, AU, and AAX plugin formats for Windows and macOS. Both 32-bit and 64-bit plugin hosts are supported.
The deal ends on October 31st, 2022.
Download:
Urban Puncher (use the coupon code UPFREE to get it for free)
More:
---
↑↑↑ 上方链接直接到达 ↑↑↑
资讯出处:Urban Puncher By United Plugins Is FREE Until October 31st - Bedroom Producers Blog