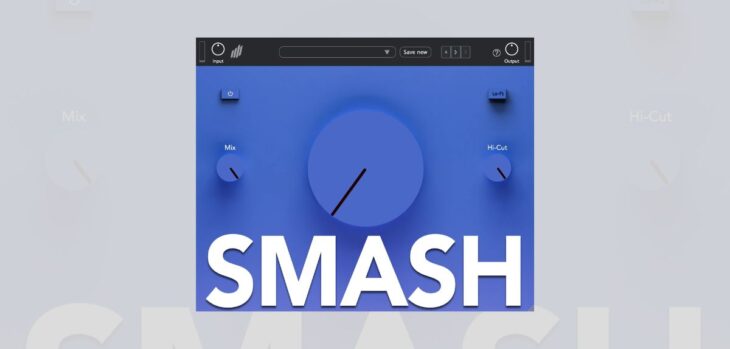 KIT Plugins launch a 50% OFF intro sale on SMASH ($34 sale price), a streamlined compression and saturation plugin for Windows and macOS.
SMASH is a perfect fit for writers, producers, and enthusiasts who want a flexible all-in-one tool for compression and saturation. It features a user-friendly interface and a straightforward workflow.
Some might see SMASH as a perfect parallel processor, while others would rather use it as a subtle effect to provide more cohesion to the overall mood of a project. It's all up to you!
According to the developers, they aimed to emulate the saturation effect you get when running an input through analog amplifier circuits. With that in mind, SMASH adds a unique combination of compression and saturation to the processed signal.
The interface features a main power button, a mix knob for dry/wet dosage, a lo-fi button that applies a tasteful lo-fi effect with 12 dB per octave slopes at 550 Hz to 7 kHz, a Hi-cut filter, and of course, the infamous SMASH macro knob that drives the compression and saturation algorithm.
SMASH utilizes a variety of compressors and saturators that are all tuned to that single master control. Driving it to a low value will trigger the first gain stage, which adds slight compression and harmonies. This setting is perfect for sound definition, bus cohesion, power, and vocal leveling. Driving the master knob to higher values will generate a harsh saturated compressor effect.
The plugin comes with 40 presets to help new users get started. You can use the patch manager to browse the included presets or save your favorite settings for later use.
KIT Plugins already offer several notable plugins in their product lineup. The BB N105 V2 plugin is one of their more popular products, and it was the first-ever channel strip emulation of the rare Neve analog console in Blackbird Studio A.
Their recently released BB Mo-Q recreates one of the original Motown EQs used on classic tracks such as "Let's Get It On" (Marvin Gaye), "Papa Was A Rolling Stone" (The Temptations), and "Da (Martha and The Vandellas).
KIT Plugins are currently running a 50% OFF intro sale on SMASH. You can get a versatile saturation/compression plugin for only 34$ during the intro sale period. The demo version lets you test SMASH free for 14 days.
On a related note, you can get a site-wide 30% OFF discount at KIT Plugins by applying the coupon code BOO30 at checkout.
SMASH is available in VST3 and AU plugin formats for digital audio workstations on Windows and macOS (AAX compatibility is pending).
More info:
SMASH (50% OFF intro sale)
More:
---
↑↑↑ 上方链接直接到达 ↑↑↑
资讯出处:KIT Plugins Launch SMASH Compressor With 50% OFF Intro Sale - Bedroom Producers Blog