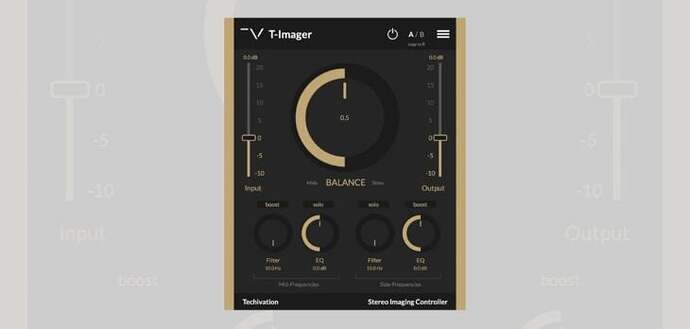 Techivation offers the T-Imager stereo imaging plugin at a special introductory price of $29 until November 7th, 2022 (additional $10 discount available for returning Techivation customers).
T-Imager is a stereo-imaging plugin that allows you to adjust the width and depth of your sound without any nasty artifacts. The goal, as always, is to create balance in your mix and ensure everything has its place and one sound doesn't detract from another.
Many plugins are designed to achieve that goal, like the free plugin Stage from RDG Audio. The best one is often a personal preference, whichever gets you there the cleanest and fastest, depending on your particular needs.
We've covered enough Techivation plugins to know that they don't like to over-complicate things, and we like that.
In typical Techivation fashion, T-Imager has a GUI that gets straight to the point without any unnecessary controls.
The main control is the Balance dial, which is the largest and right in the center. Shifting the Balance all the way to the left is Mid only, and all the way to the right is Sides only. On either side of the Balance knob is the Input/Output sliders.
T-Imager features independent high-pass filters and tilt EQs for the Mid and Side frequencies.
The Techivation website has plenty of sound demos, so you can hear how T-Imager performs on the master bus, synths, vocals, and more.
It's important to understand space in every aspect of music. As a pianist/keyboardist, I learned the hard way (or the best way, depending on how you look at it) when gigging.
I had 88 keys and assumed I could use them all freely without a real understanding of range and space. After many stern (to be polite) looks/words from more experienced bassists, I learned not to step on their toes. I learned when it's OK to experiment with extensions or more outside passing chords because experienced vocalists told me.
To be more accurate, they never told me when it was OK; they said to me in no uncertain terms when it was definitely not OK and suggested I don't do it again. The point is that I learned about space, and the same applies to writing, arranging, and mixing.
And that's exactly when plugins like T-Imager can be handy, especially when a sound isn't bad or wrong; it just needs breathing room.
Here's more information from Techivation's website:
"T-Imager is the ultimate musical stereo-imaging solution for enhancing the sound's wideness, depth, and width. Boost the stereo imaging of your mixes with no artifacts, and make your sounds sit nicely together."
T-Imager has a retail price of $49, but it is available for $29 until November 7th, 2022. In addition to this special introductory offer, existing Techivation customers can claim an additional discount and buy the plugin for just $19.
On a related note, Techivation is currently running the Halloween sale with up to 40% OFF in discounts on all plugins. For example, you can get T-Puncher for $49 or splurge $224 to get the Full Bundle.
T-Imager is available in AU, VST, and VST3 formats for macOS (10.11 upwards) and Windows (7 upwards).
Get the deal: Techivation T-Imager
More:
---
↑↑↑ 上方链接直接到达 ↑↑↑
资讯出处:Techivation Releases T-Imager Stereo Imaging Plugin ($29 Intro Price) - Bedroom Producers Blog