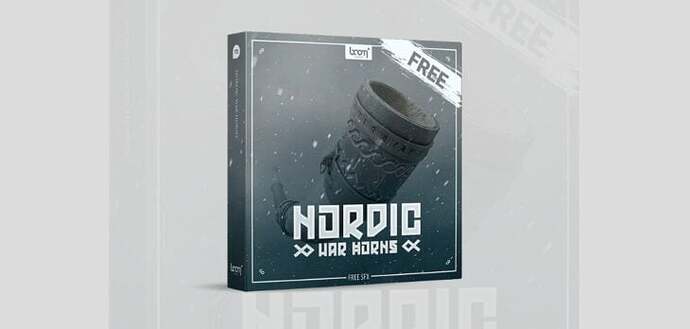 Boom Library releases Nordic War Horns, a free cinematic sound library with over 2 GB of sample content.
Every now and then, you need that extra something to cut through the mix and grab the listener. Or sometimes you just need some epic sounds for a cinematic score. Boom Library has gone all the way to Sweden to capture some epic-sounding war horns, and they are giving away a library of 294 high-quality recordings from that session absolutely free.
Also known as lur, birch bark lur, and bukkehorn, these terrifying-sounding instruments were initially used for raiding and pillaging, but later they were also used for more peaceful purposes for summoning cattle from their pastures. So they can also be used for creating ambiance and moods that harken back to the age of the Vikings.
The recordings were performed by Eilif Gundersen from the band Wardruna, and the location was a spectacular abandoned quarry that occupies the same site as an old Viking settlement. One of the horns used was a replica of a 3,000-year-old bronze horn that is displayed at the National Museum in Copenhagen.
Also featured are the bukkehorn – a lip-vibrated instrument carved from a billy goat's horn and the neverlur – well-known and often mentioned in Viking sagas; it is made from slow-grown pine that has been halved, hollowed out, and held together with birch bark. Similar to how a didgeridoo is traditionally made.
Here are some sample tracks from the company's SoundCloud.
There's also a video of Eliff playing the horns during a Wardruna performance.
The sounds have the natural ambiance of the outdoor recording location and give a sense of width and immensity that really helps to sell the mood of these sounds. The samples come in well-organized 24bit – 94kHz WAV file format, so they are supported on all major platforms, including Mac and Windows.
The sound quality is quite good and feels production-ready. The lack of dry samples will probably turn off some producers. The download process is a little cumbersome. There is no guest checkout feature, so it forces you to create an account.
The included WAV files have rich metadata embedded for faster sorting and browsing within DAWs and other software. The download is available at the official Boom Library website.
Download:
More:
---
↑↑↑ 上方链接直接到达 ↑↑↑
资讯出处:Nordic War Horns Is A FREE Cinematic Collection By Boom Library - Bedroom Producers Blog