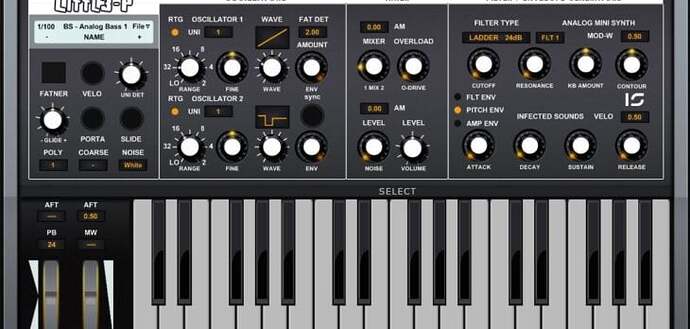 Infected Sounds launched Littl3-P, a freeware software synthesizer for digital audio workstations on Windows.
Judging by the feature set and the GUI design, Littl3-P is inspired by the Moog Little Phatty analog synthesizer.
Littl3-P features an intuitive interface that borrows the control layout and the colors from its hardware counterpart. Like most subtractive synthesizers, it's easy to program and offers a wide range of analog-style sounds.
Explore the decent array of built-in presets, or take complete control of your sound by delving into the various modulation choices, effects, and settings, including the ability to layer up to one waveform.
The Littl3-P synth has over 16 waveforms that you can manipulate, two oscillators with morph, and one oscillator mix. It comes with five powerful FX modules that will freshen up your sound, and give it a second life. The unique Unison engine has eight voices per oscillator, and its ladder filter works with both 12dB and 24dB.
The generosity in terms of waveforms doesn't stop at sixteen. This synth has three LFOs with over twenty waveforms, one filter envelope, one pitch envelope, and an AMP envelope. You can meticulously shape your sound using the AM Mod, and make use of the portamento/legato for any bendy notes.
In terms of effects, Littl3-P has an equalizer, an overdrive, some reverb, an ensemble, a chorus, and a fattener. Couple these effects with the many features you can manipulate, and experiment with different sounds to generate unique outputs.
Try it out and discover the flexibility and creative generosity this new plugin can offer you. Enrich your sound with this freebie before everybody notices it.
If you like this, check out the recently released 303 Deluxe Bassline Synthesizer plugin by Infected Sounds. And you can find many more retro instruments in our free vintage synthesizers article.
The Littl3-P synth works as a VST and VST3 plugin, operates on both 32 and 64-bit windows 7 to 10, and requires Visual C++ Redistributable Packages for Visual Studio 2013.
Download:
More:
---
↑↑↑ 上方链接直接到达 ↑↑↑
资讯出处:Littl3-P Is A FREE Moog Little Phatty Emulation By Infected Sounds - Bedroom Producers Blog