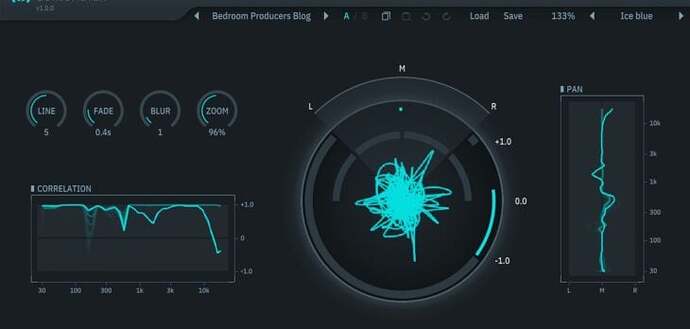 ToneBoosters released TB Goniometer, a freeware stereo image analysis and visualization plugin for Windows, macOS, and iOS.
TB Goniometer is a tool for analyzing the audio signal's stereo balance and correlation spectrum in real time. It is completely free to download from the TobeBoosters website.
In addition to uncovering stereo balance issues, TB Goniometer is useful for ensuring that your mix is mono-compatible. With so many mono playback devices in everyday use (mobile phones, tablets, portable Bluetooth speakers), mono compatibility is super important.
TB Goniometer helps you visualize the stereo properties of your mix and makes it easier to uncover potential issues. Of course, listening to your mix in mono is the best way to make sure that it is mono compatible, but a tool like TB Goniometer will help you figure out how to correct any existing stereo issues.
Taking a closer look at TB Goniometer's key features, the plugin offers a goniometer, a correlation meter, a correlation spectrum, and a left/right spectrum display. It is fully cross-platform, so you'll get the same quality on desktop and portable devices.
In terms of visuals, TB Goniometer comes with a sleek user interface that is freely resizable. The default color scheme is perfect for those late-night mixing sessions, but additional color schemes are available if you prefer lighter designs. The plugin also includes a preset manager, making it easy to save your settings for later use or across different devices.
![TB-Goniometer offers multiple color schemes.](data:image/svg+xml,%3Csvg%20xmlns='http://www.w3.org/2000/svg'%20viewBox='0%200%201333%20703'%3E%3C/svg%3E)
It's also worth mentioning that the plugin is optimized for low CPU use. Thanks to its efficiency, you can use multiple instances of TB Goniometer in a project without a noticeable performance impact.
TB Goniometer is available in VST2, VST3, AAX, Audio Unit, and standalone formats for Windows and macOS. The software is also available as an iOS app (for the iPad).
While visiting the Tone Boosters website, we recommend checking out the developer's Legacy software bundle. These discontinued plugins aren't supported, but some of them are still very useful mixing tools, and they're free to use.
Download:
TB Goniometer (212 MB download size, ZIP archive containing EXE installer)
More:
---
↑↑↑ 上方链接直接到达 ↑↑↑
资讯出处:ToneBoosters Release FREE TB Goniometer Plugin - Bedroom Producers Blog