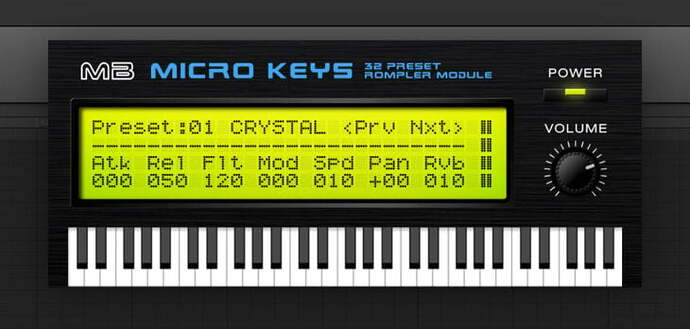 Meat Beats releases Micro Keys, a freeware 90s rompler virtual instrument for Windows and macOS.
Yesterday we wrote about Roast Beef by Caelum Audio, and today we're taking a look at a new plugin from Meat Beats. As someone who loves cooking, I knew that BPB would turn into a food blog at some point, but I didn't think it would happen this soon.
If the name Meat Beats sounds familiar, that's because we already covered a few plugins they released in 2022. We fell in love with their FEM-BASO plugin, which samples a variety of bass sounds from notable 90s synths.
The new plugin from Meat Beats is a freeware rompler called Micro Keys, and it continues the developer's trend of releasing 90s-inspired virtual instruments. After all, the developer describes the plugin as an instant source of "Classic House & Garage Keys."
To be more precise, Micro Keys includes 32 classic presets from several 90s rackmount samplers, including four electric pianos, two acoustic pianos, two organs, eight string patches, ten synths, 6 bass, and one sax preset.
GUIs don't get a lot simpler than what we have on offer here. Micro Keys shows the preset name, lets you adjust the volume, and fine-tune the envelope, filter, modulation, and reverb. All of this is neatly packed into a compact interface that resembles an LCD screen from a, you guessed it, 90s rackmount sampler.
Romplers aren't everyone's cup of tea. Producers who enjoy designing sounds from scratch would rather spill the aforementioned cup of tea on their favorite synth than touch a rompler.
However, if you're a fan of 90s electronic music and you like the idea of firing up your DAW and jamming right away, Micro Keys should be on your download list. It's compact, it's lightweight, and it sounds good.
Check out the demo video below to hear some of the included presets.
Micro Keys is available in VST2, VST3, and AU plugin formats for 64-bit digital audio workstations on Windows and macOS. The plugin is free to download via Gumroad. Enter $0 as the price to download it for free, or enter any other amount to support Meat Beats.
Download:
More:
---
↑↑↑ 上方链接直接到达 ↑↑↑
资讯出处:Micro Keys Is A FREE 90s Synth Rompler By Meat Beats - Bedroom Producers Blog