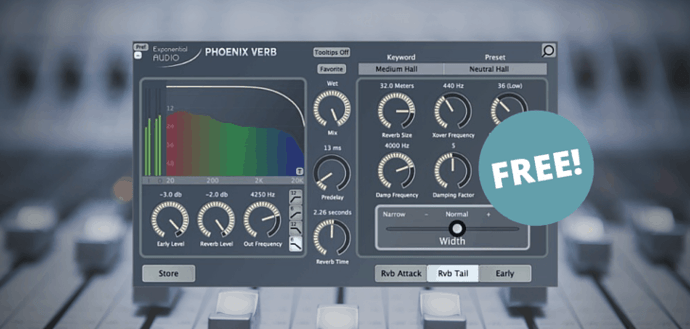 Plugin Boutique offers the iZotope PhoenixVerb ($99 value) stereo reverb plugin as an optional free add-on with any purchase this month.
PhoenixVerb is a stereo reverb effect developed by Exponential Audio released by iZotope. It is available in VST2, VST3, AAX, and Audio Unit plugin formats for digital audio workstation software on Windows and macOS.
The plugin comes with over 900 presets, covering a variety of natural-sounding and complex virtual spaces. Generally speaking, PhoenixVerb sounds natural and realistic, although it can generate some quite unique and unusual virtual rooms.
Exponential Audio highlights PhoenixVerb's neutral spatial reflections that will easily fit any type of instrument. You can try using it to enhance the tone of an acoustic piano or to apply subtle ambiance to an acoustic guitar recording.
Not surprisingly, PhoenixVerb also works quite well on vocals. It will put the lead vocal in a natural-sounding space without adding muddiness or any nasty resonances in the high end of the frequency spectrum.
The interface features all standard reverb algorithm control parameters like reverb size, damping, and filtering. The user can manipulate the early reflections, reverb tail, and the attack portion of the reverb signal separately.
Another useful interface feature is the frequency display. Use it to monitor the reverb's frequency response and apply the built-in filters to remove or attenuate any unwanted frequencies.
Here's how Exponential Audio describes PhoenixVerb:
"The go-to reverb plug-in for top producers everywhere, PhoenixVerb is designed to generate authentic reflections and bring realistic depth to any music production. Instantly place your performers in a pristine studio setting, a resonant echo chamber, or any other sonic environment you can dream up."
PhoenixVerb typically costs $99, but you can get it for free with any Plugin Boutique purchase in July. Keep in mind that the total amount in your shopping cart must be higher than zero (in other words, the free add-on isn't available for free orders).
During checkout, be sure to select the "Would you like a FREE GIFT?" option, and iZotope PhoenixVerb will be added to your order for free.
On a related note, ADSR Sounds are currently giving away Kilohearts Bitcrusher with any purchase on their website this month.
More info:
iZotope PhoenixVerb / Plugin Boutique Deals
---
↑↑↑ 上方链接直接到达 ↑↑↑
资讯出处:iZotope PhoenixVerb Is FREE With Any Purchase @ Plugin Boutique - Bedroom Producers Blog