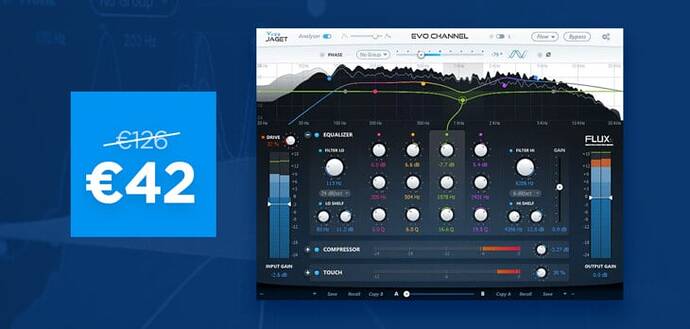 VSTBuzz launched a 67% OFF deal on Evo Channel, an advanced channel strip plugin by FLUX.
Until the 22nd of August, you can save 67% when you purchase Evo Channel by Flux. The deal is available exclusively at VSTBuzz.
Flux has some insanely cool plugins, mostly because they usually look like something out of a spy movie.
If the Evo Channel was in 007's arsenal, it could be likened to a trusty Swiss Army Knife.
The Evo Channel strip is made up of 5 modules, each of which allows you to perform crucial mixing tasks with the complexity of stacking plugins on top of each other. There are a dizzying amount of features on the entire plugin, so I've listed some of its highlights below to catch you up to speed:
Gain/Drive – This saturation module is essentially a drive device that you can use to attenuate the strength of your signal. It has a subtle but classy analog feel to it and can also be pushed for some more intense abrasive sounds.
Phase – Flux was very smart to include a Linear Phase correction tool into this rack. It does a sweet job of cleaning up blurry bus mixes – and works great on drum recordings.
EQ – A good channel strip isn't complete without a solid EQ. This plugin offers a 4-band parametric EQ that's strength lies in its subtlety. The EQ is designed to feel very minimal and isn't overly intrusive.
Compressor – The compressor in this strip comes with a few different compression types for different usage and also has an auto-adapt feature for less intuitive tweaking.
Touch – The Touch module acts as a multi-fx unit to let you add some extra sparkle and character to your signal at the end of the chain. It has seven modes, including a de-esser and transient shapers.
You can adjust the order of the modules in your signal chain to your taste, and the entire rack comes with over 50 presets for you to explore for solutions or inspiration.
The GUI is quick and responsive, and even beginners should find it simple to understand and operate.
Check out the walkthrough video embedded below to see and hear the plugin in action.
Mix engineers either love channel strips, or they don't. There is seldom a grey area. I generally side with the latter, but if I were to use a channel strip plugin – this would be among the first I reach for.
Evo Channel is available in 64 bit for Windows 10 and Mac OS X or higher.
More info:
Evo Channel (67% OFF @ VSTBuzz)
---
↑↑↑ 上方链接直接到达 ↑↑↑
资讯出处:Get 67% OFF FLUX Evo Channel Mixing Plugin @ VSTBuzz - Bedroom Producers Blog