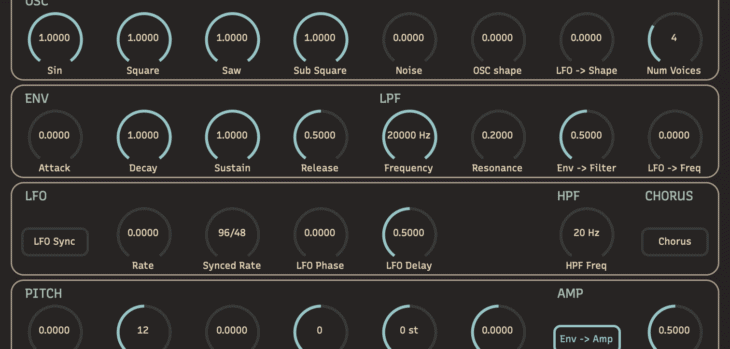 Onsen Audio offers OS-251, a freeware JUNO-style virtual analog synthesizer plugin.
OS-251 is available in AU/VST3 formats for macOS, Windows, and Linux.
Inspired by the iconic Roland JUNO-106 synthesizer, Onsen Audio set about creating a simple but powerful synth plugin.
The OS-251 is a 10-voice subtractive synth that uses digital algorithms to add warmth and a lo-fi quality. It seems like we are mentioning lo-fi a lot at the moment, and I like it.
It's not a direct JUNO-106 emulation; it's more a nod to the JUNO's simple architecture.
That simple but effective architecture features a single Oscillator with Sin, Square, Saw waveforms, and an OSC Shape parameter. The Oscillator also features a square sub-oscillator and Noise. The Noise control introduces more of that lo-fi feel that you'd get from an old sampler.
Moving down the GUI, we have a simple ADSR Envelope generator for the Low-Pass Filter and Amplitude. The bi-quad Low-Pass Filter has Frequency and Resonance controls.
There's also a bi-quad High-Pass Filter with Frequency control.
An LFO with sync controls the Low-Pass Filter, amplitude, and Shape parameter. One of the most attractive traits of the JUNO-106 is that the modulation options are incredibly simple, a trait that the OS-251 definitely picked up on.
Further down the GUI, you'll find flexible Pitch controls, including Pitch Bend, Portamento, Octave, Semi(tone), and Fine Tune.
Another thing borrowed from the JUNO-106 is a Chorus effect at the end of the signal chain. The Juno Chorus is legendary and often emulated by plugins like Arturia's Chorus JUN-6, which I think still pops up for free now and then.
Ultimately, what the OS-251 does is provide the parameters you need and nothing more. That doesn't mean that having a more complex synth is inherently bad, but sometimes it's good to strip things back and keep them simple.
The upside is that you don't waste lots of time playing with parameters that you don't even need to be touching.
If you make any kind of lo-fi, funk, fusion music (and too many others to mention), you could put the OS-251 to good use.
The sound quality is pretty impressive. As vanilla as it may sound, my favorite so far is cranking up the voice count and Sub Square and bringing in the Noise for a lush pad.
It's FREE, you can't go wrong, and it's another reminder that great sounds don't need to cost a fortune (or anything).
Look at TAL-Noisemaker, which had a recent update, or any from our best free synth plugins list – some of them are oldies but goodies (I'm noticing how often I say things in articles that remind me of Back To The Future).
Download:
---
↑↑↑ 上方链接直接到达 ↑↑↑
资讯出处:OS-251 Is A FREE Roland JUNO-Style Synth Plugin By Onsen Audio - Bedroom Producers Blog