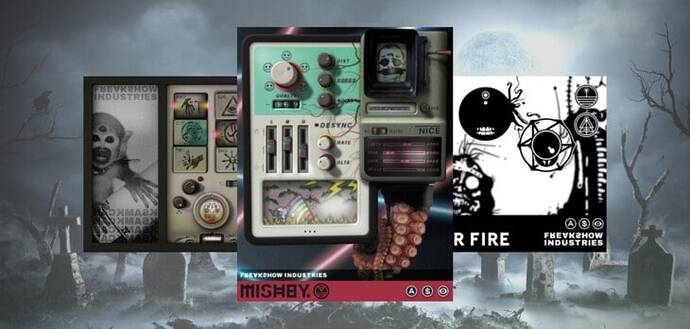 ADSR Sounds are running a pretty scary deal on the Nightmare Bundle by Freakshow Industries. Until the 28th of September, you can get the entire bundle for just $30 ($90 base price).
With Halloween around the corner, you might feel the need to add a little spookiness to some of your compositions. If so, this pack might be right up alley – that is if you're not particularly fainthearted.
The Nightmare Bundle is a pretty strange pack of toys as far as VST plugins go. We covered some of them in the past, including the Dumpster Fire and Mishby plugins.
Here's a brief rundown of the pack components.
Backmask
Backmask is a dynamic audio-reversing FX unit that looks like it's been dug up from an ancient abandoned tomb. Users can either reverse the entirety of an audio sample or cut it up into little pieces for alternate reverse mode – there's even a random mode to let the spirits do the work for you.
Backmask is a powerful and volatile plugin, so I'd advise you to use it with caution. Too much time warping and reversing might send you back to the dark ages before we had things like an auto-save function.
Dumpster Fire
Dumpster Fire seems to have been designed by a team of mischievous gremlins that come from a place where harmony does not exist. This frightening audio device is essentially a pitch-shifter, but as the user, you don't necessarily get to decide how or where your pitch modulations are generated.
To be frank, the Dumpster Fire plugin makes most of the decisions for you.
You have a subtle amount of control when it comes to the pitch rotations that Dumpster Fire creates, but mostly you're just riding the back of this crazy little banshee and it will decide when it's done feasting on your melodies.
Mishby
For fans of any form of destroyed tape machine emulation, you might be interested in the Mishby plugin. The device looks like Thanos' personal walkman and comes with a humble but set of parameters that allow you to sprinkle some sweet saturation on top of your audio.
Users can opt between one of four tape modes: ''tape'', ''cassette'','' emulation'', and ''self-care'' – the latter of which should always be high on your list of priorities.
Mishby has incredible pitch-shifting and tape erosion emulation capabilities and you can accurately attenuate the majority of your modulations for precise sound shaping. Boosting some of these controls to their peak generates some noises that should probably come with both an age restriction, as well as a health warning.
The Nightmare Bundle is available in 64-Bit AAX, VST, VST 3, and AU formats to users of Windows 10 and above, as well as for Mac 10.10.5+ or higher.
More info:
Freakshow Industries Nightmare Bundle (65% OFF @ ADSR Sounds)
---
↑↑↑ 上方链接直接到达 ↑↑↑
资讯出处:Freakshow Industries Nightmare Bundle 65% OFF @ ADSR Sounds - Bedroom Producers Blog