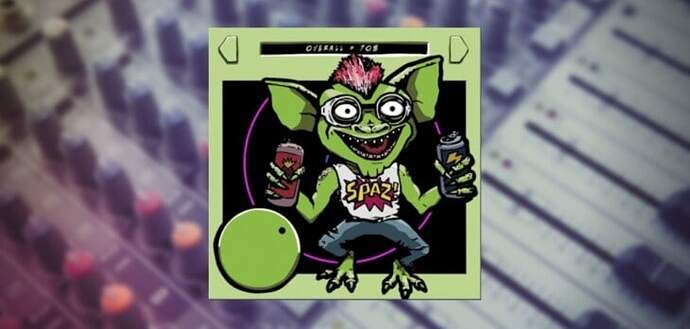 Two Clicks Audio offers the Spaz ($50 value) distortion effect as a FREE download for a limited time only.
Spaz is a distortion plugin by Two Clicks Audio, a development team currently busy with the kind of deal that everyone loves – the kind where you get things for free. For a limited time, you can download the Spaz plugin at absolutely no charge.
According to the description on the product page, Spaz is a compact but highly diverse and useful distortion device designed to enhance the harmonic content of your audio.
The interface sports a green Gremlin (which I've named Norman for the purpose of this article), wearing a white T-shirt and rocking a mohawk. I guess it's there to help you "visualize" the idea of the zany, erratic sonic possibilities on-hand with this device.
The entire interface consists primarily of one knob that sets the amount of "Spaz" or distortion applied to your audio. The knob essentially acts as a gain/drive feature.
Many producers scoff at the idea of using one-knob type VST, but the truth is if you do just one job right, it's probably best to stick to that job.
There are 20 Spaz types to choose from, and these translate to distortion modes. The different modes all carry slightly ominous names like Bear, Nerve, or Wizard. Each mode has a unique overall characteristic, and these range from subtle warm distortions to intense erosions and bit crushers.
Despite the impressive and sometimes scary amounts of drive this plugin generates, it's wonderfully CPU-friendly.
Even though Spaz is a pretty straightforward device, its strength lies in its versatility. You can use this plugin to treat almost any element of your mix or arrangement I like to use to give my drums some added grit or to layer some texture to melodic instruments like vocals, synths, and basses.
Spaz also works well with other simple devices and could form part of an effects rack for live performances or quick mixing.
If you choose to make use of the offer, Two Clicks Audio will give you Spaz free for life, as well as unlimited free updates and unlimited free presets that may be added to the plugin in the future.
You'll also receive some additional discounts on any future purchases, as well as 1,000 free click points added to your account.
Spaz is bound to leave some form of an impression on you once you try it. It's either going to become your best friend or give you nightmares for years to come. Either way, it's free and tons of fun, and for that, I highly recommend it.
You will need to sign up with a valid email address to download your free copy of the software. Spaz is available in 64-Bit VST and AAX plugin formats for compatible digital audio workstations on Windows and macOS.
It's worth pointing out that manual and auto-installation are both supported, which I'm sure some of our readers will appreciate.
Download:
Spaz (50.1 MB download size, ZIP archive, 64-bit VST2/VST3/AU plugin formats for Windows & macOS)
---
↑↑↑ 上方链接直接到达 ↑↑↑
资讯出处:Spaz Distortion By Two Clicks Audio Is FREE For A Limited Time - Bedroom Producers Blog