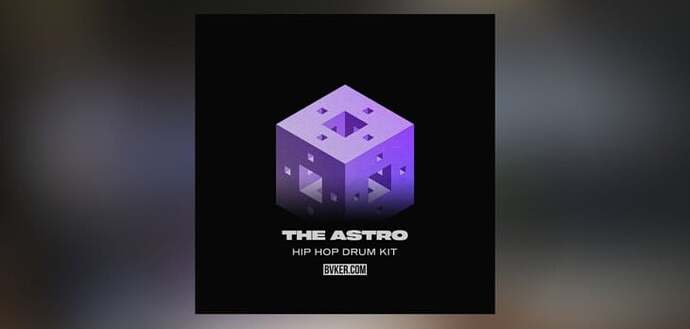 Bvker is running a very generous offer on their new Astro Drum Kit. You can download the entire kit for the price of a simple Soundcloud follow.
The Astro Kit is a collection of drum sounds inspired by the work of Travis Scott. It's safe to say that Scott is one of his generation's most unique and innovative rapper-producers.
Naturally, this particular kit is perfect for Trap, Hip Hop, and even newer styles like Drill.
This kit is relatively compact with 168 audio samples in total. It features a healthy selection of one-shots ideal for piecing together fresh backbeats of your own.
Below is a list of all of the kit components included in the download:
40 Drum Shots including kicks, snares, claps – all of which are quite gritty and hard-hitting.
23 Cymbal & HiHat Shots
10 808's ranging from warm and fuzzy to thick and distorted.
In addition to the drum one-shot samples, Bvker has also thrown in two construction kits with stems used from the beats used in their promotional material.
Here's how Bvker describes the freebie kit:
"There's no doubt that Travis Scott is one of the most unique Hip Hop artists of our time. While others stuck with the same beats, he tried out new things and eventually created a distinct trademark sound his fans admire him for. Grab your copy of our Travis Scott Drum Kit "The Astro" for free and access 100+ not-from-this-world samples!"
This pack comes with loops, one-shots, and a few other WAV files that you can use to quickly enhance your own beats. The included construction kits are perfect for producers looking to learn the fundamentals of putting a beat together.
All files in The Astro Kit are 100 percent fresh, meaning you get no recycled sounds with your download. Everyone loves free stuff, and Trap and Hip Hop producers would be silly not to take advantage of this fantastic deal.
If you're looking for more free drum sounds, check out our Free Drum Kits article.
The Astro Kit is available to both macOS and Windows users. If you need a free sampler plugin for these drums, check out Sitala and Speedrum Lite.
Download:
The Astro (373 MB download size, ZIP archive, contains 168 drum samples in WAV format)
---
↑↑↑ 上方链接直接到达 ↑↑↑
资讯出处:FREE Travis Scott Type Drum Kit By BVKER - Bedroom Producers Blog