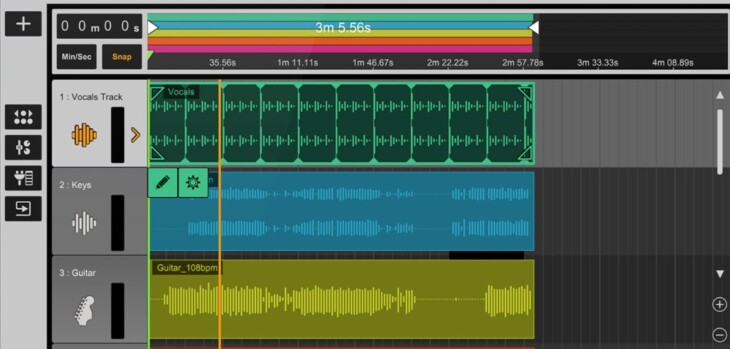 Zentracker is a new free audio recording app by Roland. Android and iOS users can use it to record and edit audio with their mobile devices.
Zentracker turns your mobile phone or tablet into a multitrack recording studio with advanced audio editing features.
The app allows you to record unlimited audio tracks, unlike most free ones, which usually have a limit. You can thus layer not just your instruments or loops but vocal harmonies as well, without worrying about reaching a specific limit.
Inspiration can strike at any time. As a musician or producer, it is not necessary that you feel creative only when you are in your studio and have access to recording equipment. This app can be especially handy when you are on the move but need to record a melody or part of a song.
What's more, not only is the app easy-to-use, but you can also access editing features using the mixer, which has 16 different audio effects, including reverse and time-stretch.
Just like a traditional DAW, the Zentracker app has a horizontal timeline that can be automated.
Every audio channel has 2 track effects and two sends. You can also freeze your tracks.
Zentracker's audio library has 200 loops to choose from, which aids in ideating and creating new music.
You have the option to save and share the audio files in Google Drive and Microsoft OneDrive. This is very useful if you want to revisit a project and build on it later using your DAW.
While the free version is loaded with benefits, upgrading to the membership version will give you added benefits such as stem export, eight FX slots per track, unlimited track sends, access to over 20 loop packs, and additional Roland Cloud mobile apps. iOS users also get AUv3 plug-in support for audio effects.
Making music does not have to be overly complicated. It should be accessible to all. This app by Roland does just that.
While it is no match for a professional studio environment, it certainly can be an app you use when feeling particularly creative.
Our mobile devices are becoming increasingly powerful, and the Zentracker aims to make music recording and editing easier for aspiring musicians/producers and professionals.
The app does not require a lot of space to download. Since this is a brand new app, you might not be able to get the Google Drive support just yet, but Roland states that there will be a patch update on that soon.
More info:
Zentracker (free with optional in-app purchases, mobile app for iOS/Android)
---
↑↑↑ 上方链接直接到达 ↑↑↑
资讯出处:Roland Releases FREE Zentracker Audio Recording App (Android/iOS) - Bedroom Producers Blog