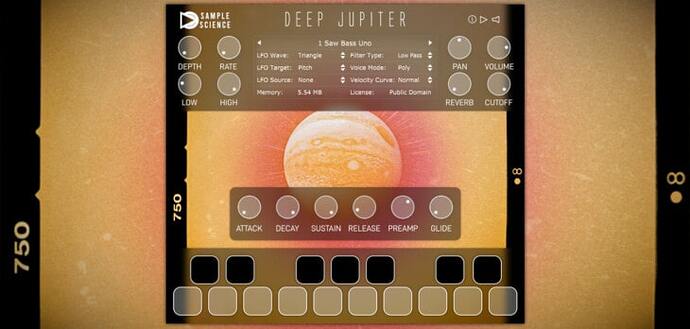 SampleScience releases Deep Jupiter, a FREE sample-based analog bass sound module VST plugin for Windows and macOS.
Deep Jupiter is based on the iconic Roland Jupiter-8 analog synthesizer. The plugin uses eight public domain Jupiter-8 multi-samples as the sound source.
The multi-sampled patches focus on the classic analog bass sounds that fit any synthwave, chillwave, synthpop, or electronica track.
If you like analog synth sounds but don't enjoy building synth from scratch, using a sample-based instrument like Deep Jupiter makes sense. You get instant access to some classic synth sounds without the hassle (or pleasure, depending on your perspective) of programming a synth.
That said, SampleScience's latest plugin still lets you customize the included Roland Jupiter-8 samples.
The plugin features an ADSR volume envelope, a multi-mode filter, an LFO module, and a preamp. It also includes a reverb effect, portamento, three different voice modes (polyphonic, monophonic, legato), and a stereo pan control.
Here's how SampleScience describes Deep Jupiter:
"Description: Deep Jupiter is an analog bass sound module featuring the sound of a famous 80s synthesizer with the name Jupiter in it. The plugin has 8 multi-sampled raw bass suite for electronic genres like synthwave, chillwave, retrowave, and synthpop. The sounds in this module are public domain (not the plugin itself which is copyrighted)."
Deep Jupiter is available as a "pay what you want" download via Gumroad. You can enter $0 to download the plugin for free or enter any other amount to support SampleScience.
If you're a fan of bite-sized virtual instruments like this one, be sure to check out SampleScience's product portfolio. SampleScience has been releasing freeware and paid plugins for quite some time now, and they have some proper gems in their arsenal.
BPB collaborated with SampleScience several times in the past. Check out our free GB DrumBox plugin if you're a fan of Game Boy sounds.
Download:
Deep Jupiter (154 MB download size, ZIP archive, 32-bit & 64-bit VST/AU plugin format for Windows & macOS, not compatible with macOS Catalina and up*)*
---
↑↑↑ 上方链接直接到达 ↑↑↑
资讯出处:SampleScience Releases FREE Deep Jupiter Virtual Instrument - Bedroom Producers Blog